Hillary Clinton's First Ads to Begin Airing This Week in Iowa, New Hampshire
The Democratic front-runner will spend approximately $1 million to air the ads in each state over the next five weeks.
By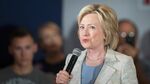 Hillary Clinton's first set of campaign ads will begin airing Tuesday in Iowa and New Hampshire as her campaign tries to get ahead of an anticipated onslaught of Republican attacks come the fall.
The campaign is spending about $1 million in each state over the next five weeks to air two 60-second biographical spots aimed at telling voters why Clinton is running for president. One features Clinton speaking directly to camera about her late mother, Dorothy Rodham, and the other focuses on how Rodham's rough childhood inspired Clinton's work over the last four decades.
Clinton's team had long planned to begin TV advertising this summer, a campaign official said, pointing to the earliest ads Clinton that aired during her last White House bid, in August 2007, and noting that the footage of Clinton in both spots was filmed two months ago.
But the buy also comes as the Democratic front-runner is beginning to feel more pressure in her bid for the nomination, with Vermont Senator Bernie Sanders polling at less than 10 points behind in some New Hampshire surveys, and with a new round of speculation about whether Vice President Joe Biden will get into the race.
The campaign's media buyers estimate that Republican campaigns and super-PACs have already spent or reserved $34 million in airtime and anticipate that much of it will include negative messaging about the Democratic front-runner. The Clinton team has already reserved some airtime, too—a combined $7.7 million for in Iowa and New Hampshire between the beginning of November and early February. The Iowa caucuses are set for Feb. 1 and the New Hampshire primary is scheduled for Feb. 9. 
The ads will air in Des Moines and Cedar Rapids, Iowa's two largest markets, and in the Boston/Manchester and Burlington, Vt., markets, which together reach all of New Hampshire.
In the ad that focuses on Dorothy Rodham, Clinton discusses her mother's childhood at length, noting that she was abandoned by her parents but encountered a few kind adults who cared for her. "When she needed a champion, someone was there. I think about all the Dorothys all over America who fight for their families, who never give up," Clinton says. "That's why I'm doing this. That's why I've always done this. For all the Dorothys."
The other spot, titled "Family Strong," includes Clinton telling an abridged version of her mother's story before shifting into a narrated list of Clinton's work experience and achievements, including working at the Children's Defense Fund after graduating from law school and fighting for kids while serving as first lady of Arkansas and first lady of the United States.
"You probably know the rest," the narrator says in a nod to Clinton's well-known recent history, before offering some highlights: "The senator who made sure the heroes and families of 9/11 got the care they needed" and, with a picture of Clinton and President Barack Obama on screen, "the secretary of state who joined the Cabinet of the man who defeated her, because when your president calls you serve."
The narrator continues, with a photo of the candidate and former President Bill Clinton holding baby Charlotte in the hospital 10 months ago: "And now a new title: grandma."
Finally, Clinton returns to screen and closes. "I believe that when families are strong America is strong," she says. "It's your time."