John Kasich Walks Back Staffer's Trump Tweet
His chief strategist had likened the real estate magnate to a drunk driver.
By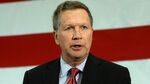 Republican presidential candidate John Kasich doesn't like talking about his rival Donald Trump, and he's not too keen on his staffers snarking on him either.
In an appearance on Fox News Sunday, the Ohio governor rebuked senior staffer John Weaver for a much-discussed Twitter post that compared Trump to a drunk driver. 
"He won't be sending any more tweets like that," Kasich said. "That's not the way we operate."
Kasich also walked back his 1994 vote against the assault weapons ban, saying the lack of results taught him a lesson. "We were adding a law that had no impact," he said.
The governor insisted he's not worried about being left off the main stage in the first presidential debate, set for this Thursday in Cleveland. Fox, which is co-hosting the debate with Facebook, has said it will select 10 participants for the prime-time event based on performance in national polls. The rest of the 17-person field will be relegated to an early evening debate.
"This debate comes six months before the selection of a single delegate," he said. "What I've been focusing on is out there in the grass roots."