Charles Koch Compares His Conservative Mission to the Fight to End Slavery
The conservative billionaire calls on fellow donors to dig deep, and likens his cause to the civil rights movement, among others.
By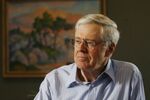 The billionaire political donor Charles Koch compared the work of his organization, which pushes for free markets and less government regulation, to that of American movements to end slavery and win equal rights for women and minorities.
Urging a roomful of wealthy conservatives gathered at a luxury hotel California to increase their commitment to his group's efforts, he called upon them to draw inspiration from leaders including the Founding Fathers, abolitionist Frederick Douglass and the civil-rights leader Martin Luther King, Jr.
"To defy the tremendous odds stacked against them, they all had—not just the Founding Fathers—to commit their lives, their fortunes, and their sacred honor, often at great personal sacrifice," Koch said. "So that's the challenge before us."
Koch and his brother, David, who have a net worth of about $51 billion each, oversee a network of conservative groups that push for libertarian-oriented policy changes. He spoke during a weekend conference where about 450 like-minded donors gathered to compare notes and hear from political candidates who are competing for their backing.
In his remarks Sunday, Koch said the group is making progress on one of the causes it has championed—overhauling the U.S. criminal justice system to reduce the number of nonviolent offenders in the prison system.
"My hope is that if it can be achieved, not only will it provide opportunity for hundreds of thousands of families, but it will help ease racial tensions, which is critical for the future of this country," Koch told the mostly-white audience.

Five Republican presidential candidates—Florida Senator Marco Rubio, Wisconsin Governor Scott Walker, former Hewlett-Packard CEO Carly Fiorina, Former Florida Governor Jeb Bush and Texas Senator Ted Cruz—are among the politicians who have spoken or are scheduled to speak at the conference, at a seaside resort in Dana Point that is off-limits to the public. Bloomberg News and some other media organizations were allowed to attend parts of the conference on condition that they not approach or identify donors without their permission.
"We're all going to have to raise our efforts to the next level," Koch told his guests. "We're going to have to build, with tens of millions of other Americans, the most effective movement in history for helping people improve their lives and making the world a better place."