Joe Biden Not Ruling Out a Challenge to Hillary Clinton
Friends say he'll decide in September.
By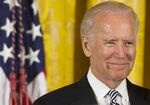 U.S. Vice President Joe Biden is continuing to assess whether to run against Hillary Clinton for the Democratic presidential nomination, and will probably make a decision next month, according to a person with knowledge of his thinking.
While people close to the vice president told Bloomberg that Biden continues to keep the door open to a third presidential run, they insisted he has made no definitive moves. The New York Times reported on Saturday that the vice president is actively exploring a potential campaign.
That left some prominent Democrats non-plussed. "I have no knowledge of his asking me or other people at this time to support him for president," said Louis Susman, a Democratic donor and former U.S. ambassador to the U.K. Susman, in a telephone interview Saturday, said the subject of a Biden run was not discussed when he breakfasted recently with Biden chief of staff Steve Ricchetti—a meeting that some news outlets cited as evidence of Biden's potential interest in running.
Democratic National Committee Chair Debbie Wasserman Schultz also appeared to be waiving a caution flag in an appearance Sunday on NBC's Meet the Press. "Let's take one step back," she said. The Florida congresswoman did, however, say that the DNC has "kept his team informed" of their activities preparing for the 2016 election as the party has "with all potential or actual candidates."
The reports of Biden's interest in the race come in the wake of polls suggesting that Clinton, while still the prohibitive front-runner, has been weakened by stories raising questions about her management style as secretary of state.
Her use of a private e-mail server for business communications has raised concerns that classified communications may have been compromised—a suggestion Clinton vehemently denies—and the relationship of her family's foundation to individuals and corporations with interests before the U.S. government also have raised ethical questions. A recent Quinnipiac University national poll showed Biden running slightly better against Republican Jeb Bush than Clinton does. The poll also showed that the stories about her private e-mail account have raised questions in voters' minds about her trustworthiness. 
In some ways, Biden would be an unlikely presidential candidate: He is 72 years old and recently suffered a harrowing family tragedy when his son, Beau, died of brain cancer. He has failed twice in attempts to win the Democratic presidential nomination, and has a tendency toward verbal gaffes that has made him a favorite of satirists. But Biden is also one of the most vocal defenders of President Barack Obama's policies, and has a legion of powerful friends and allies in the Democratic Party, relationships forged during his nearly four decades in the U.S. Senate, where he headed both the Judiciary and Foreign Relations Committees.  
Clinton's camp refused to be drawn into the speculation. "We are not going to have any comment on Biden stories except I love the guy!" Jennifer Palmieri, Clinton's communications director, said in an e-mail to Bloomberg.
(Jennifer Epstein and Melinda Henneberger contributed to this story.)