Putin Is Blasted by Litvinenko Lawyer as Tin-Pot Despot
Jeremy Hodges and Manisha Jha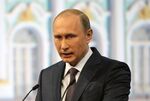 Russian President Vladimir Putin was labeled a "tin-pot despot" by a lawyer for awarding a medal of honor to one of the men accused of killing Alexander Litvinenko.
Giving Andrei Lugovoi a medal in March for services to the country was a "crass and clumsy gesture," Ben Emmerson, a lawyer for the Litvinenko family, said on the final day of an inquiry into the former spy's death in London.
Litvinenko, a fierce critic of the Kremlin who lived in the U.K. capital, died in 2006, about three weeks after ingesting radioactive polonium. British prosecutors said in 2007 that Lugovoi and another man, Dmitry Kovtun, should be charged with murder.
"Given the timing, it was not of course difficult to understand the message behind the award," Emmerson said. "Putin continues to stand shoulder to shoulder with his henchman and executioner."
The two men have consistently denied being involved in the death despite evidence they both met Litvinenko on three separate occasions in the months before he died, leaving a polonium trail in London hotels, restaurants and public transportation.
The original inquest into Litvinenko's death started in 2006 and then adjourned pending criminal investigations. A subsequent inquest in 2013 was hampered by national-security concerns.
Home Secretary Theresa May decided to open a public inquiry in July 2014 at a time when U.K.-Russian relations were at their lowest ebb since the end of the Cold War.
"After years of negotiation and appeasement, the world has lost patience with Putin's judo politics and his cringing hard-man photo opportunities," Emmerson said at the inquiry, which began in January. "He is increasingly seen as a dangerous international menace."
Organized Crime
During the inquiry, evidence was produced that Litvinenko had worked on a report linking Putin and his closest allies to organized crime gangs in Russia and across Europe. That alone was motive enough for the Kremlin to be behind the killing, Emmerson said.
"If the Russian state is responsible, Vladimir Putin is responsible," Emmerson said. "Not on some analogical version of vicarious liability but because he personally ordered the liquidation of an enemy who was bent on exposing him and his cronies."
Litvinenko, who was 44 when he died, was caught up in a complicated web of spy agencies and oligarchs, a lawyer for the inquiry said earlier in the proceedings. He trained with the Russian army and in 1987 was recruited into the KGB. He served with the agency in the first Chechen war and is allegedly responsible for war crimes that took place there, Robin Tam, a lawyer for the inquiry, said earlier in the proceedings.
He stayed with the agency as it was broken up and later formed into the Federal Security Service, or FSB. Before his death, Litvinenko was close to Boris Berezovsky, a one-time billionaire who committed suicide in 2013.
Litvinenko in 1994 exposed a plot by Russian authorities to murder Berezovsky, announcing it at a press conference. This was an act that his former FSB colleagues considered to be a "gross betrayal," Tam said earlier.
Litvinenko's widow, Marina, persistently called for an inquiry and will have to wait until the end of the year to discover Judge Robert Owen's full decision.
"There remains little doubt in my mind that the order for my husband's murder came from the Kremlin," she told reporters following the hearing. "Somewhere you can find justice, even if it doesn't come easy."