Latest Batch of Hillary Clinton E-Mails as Secretary of State Released
Billy House and Ben Brody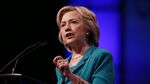 A new batch of Hillary Clinton's e-mails during her tenure as secretary of state was released Friday, with many portions redacted and many of the e-mails in 2009 focusing on details of State Department business.
The online posting Friday by the U.S. State Department represents the latest in the rolling release of portions of about 30,000 e-mails that Clinton kept on her private server.
Many of the e-mails focused on personnel matters, such as hiring a new speechwriter and discussion of a person -- whose name was redacted -- who had sought an ambassador post.
The messages also gave Clinton updates on action in the U.S. Congress, such as confirmation votes for ambassadors and the 2009 Obamacare votes in the Senate.
"This evening cloture was invoked on the motion to proceed to Majority Leader Reid's health care bill, 60 to 39. It was a straight party-line vote," wrote Miguel Rodriguez, who at the time was deputy assistant secretary of State. "Despite some early concern over how they would vote, Senators Ben Nelson, Landrieu, and Lincoln voted with the caucus."
Another aide sent her a list of 39 Democrats who voted against the bill.
Clinton, who had attempted to help formulate U.S. health care policy since her time as first lady, received regular updates on votes on the Affordable Care Act and appears to have lobbied on its behalf.
'All the Difference'
"Think your calls to House members made all the difference," then-Assistant Secretary of State for Legislative Affairs Richard Verma wrote to Clinton on Nov. 7, 2009. "Close, but good result."
Aides were also keeping Clinton informed on domestic politics. One informed her that Bill de Blasio -- a former Clinton aide -- had won his 2009 primary runoff for New York City public advocate and passed along his mobile phone number, which was redacted.
Clinton's campaign on Friday also released details of her health records and planned to publish her tax returns from 2007 to 2013. Aides said the disclosures were intended to emphasize her desire to be transparent with voters.
Clinton, 67, "is in excellent physical condition and fit to serve as president of the United States," said internist Lisa Bardack in a letter released by the campaign dated July 28.
In the e-mails released Friday, Clinton's team occasionally scoffed at the notion that there was still tension left over from the 2008 presidential race between her State Department and President Barack Obama's team in the White House.
'Manufactured Drama'
"Just shows you that it's near impossible to take issue with the job you're doing it, which is why the political reporters have to resort to the manufactured drama of interactions with the WH," communications adviser Philippe Reines wrote in September 2009 after Clinton remarked on positive press coverage.
Even going to a funeral was work for Clinton. She wrote that she returned from the farewell to Senator Ted Kennedy with a list of "people I saw at funeral who I want to see or who want to see me." They included Randi Weingarten of the American Federation of Teachers, Senator Dianne Feinstein and Arnold Schwarzenegger.
Former House Speaker Newt Gingrich -- a Republican who sparred with President Bill Clinton -- sent Hillary Clinton's staff a report on a 2009 trip to Japan, saying her visit had "made a big impact."
Benghazi Committee
An initial batch of 296 e-mails was released in May after being provided to the Republican-led House panel looking into the 2012 attack at a U.S. diplomatic compound in Benghazi, Libya, that killed four Americans, including the U.S. ambassador. Clinton is scheduled to testify before the panel Oct. 22.
The e-mails released Friday date from an earlier period during Clinton's service as secretary of state. Another batch of about 1,900 e-mails were released on June 30.
Clinton used private e-mail addresses and a private e-mail server to conduct government business while she was secretary of state from 2009 to early 2013. Last December, Clinton and her lawyer turned over what they deemed the professional portion to the State Department to comply with open-record laws.
A U.S. District Court judge ruled the e-mails must be made public in response to a Freedom of Information Act lawsuit. Those that aren't legally exempt from disclosure are to be released on a rolling basis every 30 days, with the release completed by the end of January.
Potentially Classified
The U.S. intelligence community's inspector general reported last week that Clinton's e-mail account contained some information that should have been classified. The federal watchdog asked the FBI to review whether potentially classified material within the messages had been jeopardized during the State Department review in preparation for releasing the documents publicly.
Some of the e-mails released Friday included redactions to protect national security, according to State Department annotations on the documents. One was from Daniel B. Smith, then executive secretary of the department, who sent Clinton's aides what appeared to be an agenda for a meeting that day between senior staff and assistant secretaries.
The e-mail, which one aide then forwarded to Clinton, was marked "sensitive but unclassified" -- a common designation in some of the more diplomacy-oriented emails -- though much of a section on embassy security was redacted to protect national security, according to State Department annotations.
Personnel Matters
Many other redactions in the documents released Friday were in e-mails involving personnel matters, one of the exceptions from release under the FOIA.
The State Department said the bundle posted Friday included 1,356 items totaling 2,206 pages from Clinton's e-mail account. It said the agency is falling behind in its court-ordered pace for release of the emails. Combined with the earlier public posting, nearly 12 percent of the e-mails have been released, while the court ruling had anticipated 15 percent by now.
In a statement, the department said the process has been slowed by vetting information that might be classified or sensitive and that it would seek to catch up in further releases.
'Future Productions'
"We take the court's goals seriously and have every intention of meeting them in future productions," the department statement said.
The previous batch of about 1,900 e-mails -- or 3,000 pages -- released under court order June 30 touched on a wide range of topics. Like those e-mails, the new bundle released Friday reflect an image-conscious Clinton and her staff early in her tenure as secretary of state, showing some of the ins and outs of being a Cabinet member who happens to be named Hillary Clinton.
In May, the State Department made public 296 e-mails that it had determined to be related to the 2012 Benghazi attacks. It gave them first to the committee.
The State Department this week also turned over to the committee 8,254 pages of new Benghazi-related documents that aren't Clinton e-mails. The panel is starting to review that information.
At Clinton's Oct. 22 scheduled appearance before the Benghazi committee, members are set to question her about Benghazi and her e-mail arrangement as secretary, as it relates to the committee's investigation, committee spokesman Jamal Ware said in a statement.
House Speaker John Boehner, in a Tuesday news conference, renewed his call for Clinton to turn over her private e-mail server to investigators. Clinton has said that she neither sent nor received materials considered classified at the time.