Hillary Clinton Lobs Bush, Rubio Attacks in Their Own Backyard
In South Florida, the Democrat charges that Republican candidates "refuse to learn the lessons of the past."
By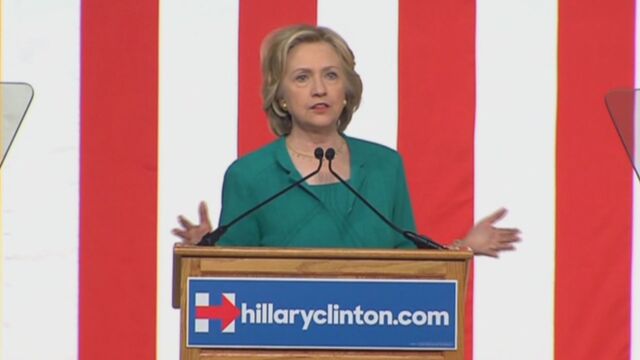 Hillary Clinton visited the home turf of Jeb Bush and Marco Rubio on Friday and came out swinging at both Republican presidential hopefuls.
Speaking to groups of African-Americans and Cuban-Americans at two separate events in South Florida, the Democratic front-runner accused her potential general-election opponents of failing to live up to the promises in their rhetoric, and of supporting policies that haven't worked in the past and won't work in the future.
Calling for an end to the U.S. trade embargo on Cuba at Florida International University in Miami—where Rubio is on the faculty—Clinton charged that Republican candidates "refuse to learn the lessons of the past or pay attention to what's worked and what hasn't—ideology trumps evidence."
Republicans "have it backwards: engagement is not a gift to the Castros. It's a threat to the Castros," the former secretary of state said. "An American embassy in Havana isn't a concession. It's a beacon. Lifting the embargo doesn't set back the cause of freedom. It advances freedom where it is most desperately needed."
Clinton's call to end the Cuba embargo is a shift from the position she took during her last campaign, in 2008. Back then, she said it was "not the time to consider wholesale or broad changes to our Cuba policy" and opposed loosening rules on travel and trade with Cuba. Even further back, in 1996, she supported the Helms-Burton Act, signed by President Bill Clinton, which ratcheted up sanctions on Cuba.
What changed, she said Friday, was seeing that the continued isolation of the Castro regime wasn't making a difference. "You've been promised progress for 50 years. We can't wait any longer for a failed policy to bear fruit," she said.
Rubio, a Cuban-American senator, and Bush, a longtime Florida resident and the state's former governor, both oppose boosting engagement with Cuba and instead favor reversing the Obama administration's efforts to rebuild diplomatic and business relations after more than half a century of attempts to isolate Havana. 
Rubio attacked Clinton's move as a "grave mistake" and said he would "only support an end to the embargo that is accompanied by real democratic reform."
"Unilateral concessions to the Castros will only strengthen a brutal, anti-American regime 90 miles from our shore," he said in a statement. "President Obama and Secretary Clinton must learn that appeasement only emboldens dictators and repressive governments, and weakens America's global standing in the 21st century," the Florida senator said in the statement e-mailed by his campaign spokesman.
Bush said in a statement released ahead of her speech that "it's insulting to many residents of Miami for Hillary Clinton to come here to endorse a retreat in the struggle for democracy in Cuba."
Americans are increasingly supportive of rebuilding relations with Cuba, with polling showing that even a majority of Republicans want to see the embargo lifted. Fifty-nine percent of Republicans surveyed by Pew Research Center earlier this month said they wanted to see the embargo come to an end, and 72 percent of all Americans said the same. Seventy-three percent of Americans said they support the rebuilding of diplomatic relations between the two countries, up from 63 percent in January.
To Bush, Clinton's shifting position, in line with polling, is a purely political move.
"The American people deserve principled leaders who will stand up to our adversaries and stand up for our values. Secretary Clinton's politically expedient embrace of President Obama's unilateral concessions to Cuba makes clear she will do neither," he said.
Bush's attacks on Clinton came after she got aggressive on Friday morning in attacking his record on economic and voting issues while addressing the National Urban League's convention in Fort Lauderdale not long before Bush took the stage there.
"The real test of a candidate's commitment is not whether we come to speak at your national conference, as important as that is. It's whether we're still around after the cameras are gone and the votes are counted. It's whether our positions live up to our rhetoric," she said. "And too often we see a mismatch between what some candidates say in venues like this, and what they actually do when they're elected."
Alluding to the name of the super-PAC backing Bush, Right to Rise, Clinton said: "I don't think you can credibly say that everyone has a 'right to rise' and then say you're for phasing out Medicare or for repealing Obamacare. People can't rise if they can't afford health care. They can't rise if the minimum wage is too low to live on. They can't rise if their governor makes it harder for them to get a college education. And you cannot seriously talk about the right to rise and support laws that deny the right to vote."
—With assistance from Sahil Kapur in Washington.