Toyota Picks This Little-Known Company Over Apple, Google
Craig Trudell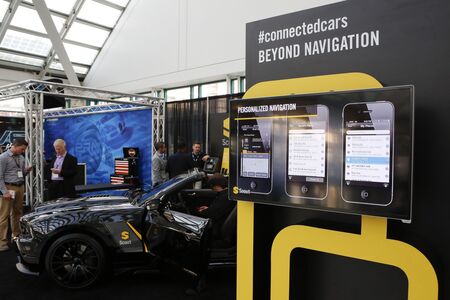 Toyota Motor Corp. will turn to a little-known company instead of Apple Inc. or Google Inc. to provide navigation and phone connectivity, as it seeks to maintain control of the car features.
The 2016 Tacoma pickup will be the first of several Toyota models to use Scout GPS Link from Telenav Inc. The company allows Android and iPhone users to pull up directions and traffic information on their phone or Toyota dashboard while giving the carmaker more say over how to configure the system.
"This is a solution over which Toyota has full control," Niall Berkery, Telenav's director of automotive business development, said by phone. "The big aspect for Toyota was the driver-distraction element and making it a safe experience. A lot of customers are using mobile nav in the car today, but many are doing it in an unsafe manner, whipping out the phone and typing while driving."
Toyota has been the biggest holdout among global automakers as Apple and Google turn car companies' dashboards into screens that closely mirror their smartphones. Automakers must decide whether to hold them off and risk losing customers or open the door to two of the most feared names in technology.
The Japanese automaker said the deal allows it to offer a unique search and navigation experience to its drivers.
While Volkswagen AG and General Motors Co. are beginning to introduce models that support the tech giants' systems, Toyota has said it's still evaluating them for customer-data protection and driver distraction.
In choosing Telenav, Toyota is trusting a company with a market value about 1,568 times smaller than Google's. Based in Sunnyvale, California, Telenav also supplies to Ford Motor Co. as well as GM.
Smartphone Apps
One of the limitations with Apple's CarPlay or Google's Android Auto is their similarity to operating a smartphone, with users having to hop in and out of distinctive apps, Berkery said. Telenav allows users to split a dashboard screen and operate, for example, both the navigation and radio.
As for data protection, Telenav intends to become a partner that Toyota will trust with access to some degree of information, Berkery said. The company is working on software similar to Google's that will be able to predict where drivers are likely going based on their past behavior, though the Scout GPS Link product doesn't have such capabilities.
"If you've got an idea of where a driver is going with a high degree of confidence, you can provide a much safer experience to the driver," Berkery said. "As we go down the path of assisted driving and autonomy, a lot of the intelligence we glean from big data will be very important."
Before it's here, it's on the Bloomberg Terminal.
LEARN MORE