Senate Sends Latest Stopgap U.S. Highway Funding Bill to Obama
Kathleen Miller and Billy House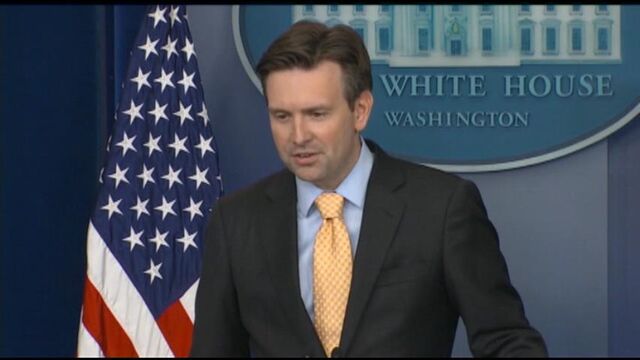 The U.S. Senate passed the 34th stopgap highway funding bill in the past six years to fund roads, bridges and mass transit for three months so Congress can negotiate later over a long-term plan.
Senators voted 91-4 Thursday for the measure, which would extend highway spending authority through Oct. 29 and now goes to President Barack Obama for his signature. The House passed the bill Wednesday before leaving for an August recess. Current highway spending authority had been set to expire after Friday.
Earlier Thursday, the Senate passed a three-year highway funding measure that would revive the U.S. Export-Import Bank, whose charter expired June 30. The House passed a five-month highway fund extension earlier in July that didn't renew Ex-Im.
"The multi-year nature of this legislation is one of its most critical components," Senate Majority Leader Mitch McConnell said on the Senate floor Thursday. "It's also something the House and Senate are now united on."
After both Republican-controlled chambers return in September, McConnell of Kentucky and House Speaker John Boehner of Ohio say lawmakers will negotiate on a long-term highway funding plan.
"The staffs are working together as we speak," said Republican Senator Jim Inhofe of Oklahoma, chairman of the Environment and Public Works Committee.
"The challenge now on the highway bill is trying to divine the opinion of the Republican leadership, because you've got the Republicans in the Senate one way and the Republicans in the house the other," Senator Ron Wyden, an Oregon Democrat, said in an interview.
'Skipped Town'
White House spokesman Josh Earnest told reporters Thursday, "The real problem is that House Republicans have skipped town and started their vacation even though they have a lot of important work to do."
The three-month plan, H.R. 3236, would provide $6 billion for highways and $2 billion for mass transit financed mostly by tightening tax compliance rules.
The long-term Senate bill, passed 65-34 Thursday, would provide a six-year blueprint for infrastructure spending while paying for three of those years.
Third-ranking Senate Democrat Chuck Schumer, who voted against the Senate plan, said it was still "too early to tell" how highway legislation will fare after negotiations with the House.
"We want as long-term a highway bill as we can get and we'll have to figure out the right path --- and Ex-Im, it's very important to many of us," said Schumer of New York in an interview.
Banking Industry
The bill, H.R. 22, is opposed by the banking industry because it would finance highways partly by reducing dividends to banks from the Federal Reserve. It would cut the 6 percent dividend paid to member banks to 1.5 percent for banks with more than $1 billion in assets, which is expected to generate more than $16 billion for the highway fund.
That proposal is one reason the Senate Banking Committee's Republican chairman, Richard Shelby of Alabama, and its top Democrat, Ohio Senator Sherrod Brown, both oppose the bill.
"Some of the pay-fors bother me," Brown said in an interview Wednesday. "Small banks will contribute to this instead of it being a transportation bill funded by transportation. There are safety concerns as well; it's really all of it."
The six-year Senate bill also would triple, to $105 million, the maximum fines that automakers can be required to pay for violations of motor-vehicle safety laws. The measure also prohibits the rental of cars with unrepaired safety defects and proposes that dealers run a recall check when customers come in for routine service.
Ex-Im Bank
The Senate measure would revive the 81-year-old Ex-Im Bank, which has been unable to approve new applications for loans, guarantees and insurance since its charter expired June 30.
Ex-Im, renewed without controversy for decades, is opposed by conservative Republicans who say it benefits only a few large corporations that don't need government assistance.
Senator Roy Blunt, a Missouri Republican and former chief vote-counter in the House, said he was confident Ex-Im's renewal would withstand negotiations with the House over highway funding legislation.
"Any time you have something that substantially more than 60 senators and a majority of the House members want, it is highly likely that it gets done," Blunt said in an interview. "I would expect that to be the case with Ex-Im."
Competitive Risk
Large manufacturers including Chicago-based Boeing Co. and Fairfield, Connecticut's General Electric Co., have said the lapse in the bank's charter puts them at risk of losing sales to competitors in Europe, Brazil, Japan and China who can get government-backed financing. GE and Boeing have said they might move job overseas if Congress doesn't reauthorize Ex-Im.
The 18.4 cents-a-gallon federal gasoline tax that the Highway Trust Fund has relied on no longer covers the cost of the transportation program as Americans drive less and buy more fuel-efficient cars. Republicans have refused to consider raising the tax.
The last time Congress passed a highway funding measure that covered more than two years was 2005. The three-month measure would be the 34th stopgap highway law in the last six years, according to the Peter G. Peterson Foundation, which says it seeks long-term government fiscal solutions.