Kasich's Bid Powered by Fans From Ohio and Lehman
An update on how the Ohio governor's candidacy is faring in the money race.
By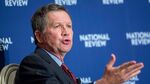 Two committees supporting Ohio Governor John Kasich's presidential bid raised a combined $11.7 million through June 30, according to reports filed today with the IRS.
New Day for America, a super-PAC backing the Ohio governor, collected $11.1 million, while New Day Independent Media Committee Inc., a separate 527 organization, raised $600,000 from two donors on June 30, reports show.
The super-PAC received $1 million in contributions from Thomas Rastin of the Ariel Corp. in Mount Vernon, Ohio; the Schottenstein Management Co. in Columbus; Ohio; the Wendt Family Trust in San Francisco; and Abigail Wexner, wife of L Brands Inc. founder Les Wexner of New Albany, Ohio.
Among the other contributors were donors to Kasich's past campaigns for governor, as well as acquaintances from his days a managing director for Lehman Brothers, including Ted Schlein, general partner at venture firm Kleiner Perkins Caufield & Byers in Menlo Park, Calif.
About 60 percent of the donations to the super-PAC came from Ohio, with 20 percent from California, records show.
The 527 group received $500,000 from MMWP12 LLC in Montana, which state records show was created on the day before the contribution. The Center for Public Integrity in Washington said records indicate it is linked to Mark Kvamme, a former partner at Sequoia Capital in Menlo Park, California. He previously served as Kasich's state development director and then as president and interim chief investment officer of JobsOhio, the governor's private development entity.
Montana corporate filings list Kvamme as an officer of K2M LLC, which is the manager or member of MMWP12 LLC. Kvamme could not be reached.
Kasich announced his bid for the Republican presidential nomination on July 21. The initial New Day committee was created April 20, while the other group formed May 28, according to records filed with the IRS.