Can the Insurance Industry Survive Driverless Cars?
Insurers brace for a time when automation reduces accidents—and premiums
By and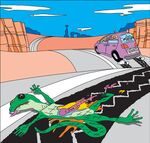 A black Volkswagen Golf rolls along at 12 mph on an empty road in the heart of Virginia's horse country. Suddenly the dashboard lights up, and there's a warning sound. The driver ignores it. A moment later, the VW brakes hard—all on its own—and comes to a stop a foot in front of an inflated box painted to look like the rear end of a car. The Insurance Institute for Highway Safety (IIHS) has been running tests like this a few times a month at its research center in Ruckersville, Va. The objective is to vet automakers' latest crash avoidance technologies, like the one in the Golf, to identify the most effective ones.
The auto insurance industry is having its Napster moment. Like record companies at the dawn of online music file sharing, Allstate, Geico, State Farm, and others are grappling with innovations that could put a huge dent in their revenue. As carmakers automate more aspects of driving, accidents will likely plunge and car owners will need less coverage. Premiums consumers pay could drop as much as 60 percent in 15 years as self-driving cars hit the roads, says Donald Light, head of the North America property and casualty practice for Celent, a research firm. His message for insurers: "You have to be prepared to see that part of your business shrink, probably considerably."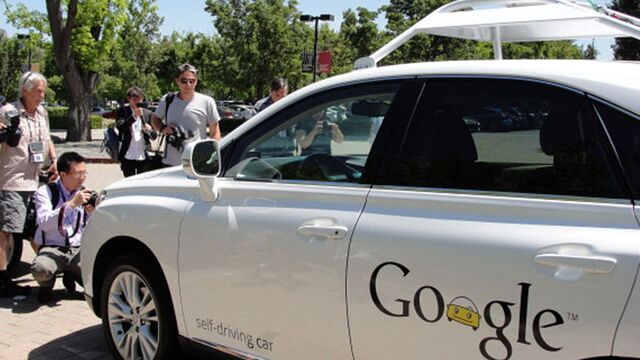 Auto insurance has long been a lucrative business. The industry collected about $195 billion in premiums last year from U.S. drivers. New customers are the source of so much profit that Geico alone spends more than $1 billion a year on ads to pitch its policies with a talking lizard and other characters. Yet even Warren Buffett, whose company, Berkshire Hathaway, owns Geico, is talking about the long-term risks to the business model. "If you could come up with anything involved in driving that cut accidents by 30 percent, 40 percent, 50 percent, that would be wonderful," he said at a conference in March. "But we would not be holding a party at our insurance company."

Cars have been getting safer for years, thanks partly to the insurance industry's efforts to make antilock brakes, airbags, and other life-saving features standard issue. Still, much bigger advances are at hand. Automakers have poured billions of dollars into developing sensors, cameras, and computers that can react to all kinds of driving situations.
For example, a system introduced on the 2013 Honda Accord beeps when cars get too close to traffic ahead or leave their lane without signaling. It has had a measurable effect on the frequency of some types of claims: Bodily injury liability losses dropped 40 percent and medical payments decreased 27 percent, according to a 2014 study of insurance claims data by the Highway Loss Data Institute, IIHS's sister organization.
BMW is rolling out a car that can park itself. Cadillac has a model coming that drives hands-free on the highway. Google has logged more than a million miles in California and Texas testing its fully autonomous cars. Boston Consulting Group estimates that self-driving cars may account for a quarter of global auto sales by 2035.

IIHS is investing $30 million to upgrade the facility in Ruckersville so researchers can run more tests on crash avoidance systems. A covered track that's part of the expansion is scheduled to open in September. The group is also designing controllers to perform maneuvers that would be hard for human drivers to do consistently. "We need robots to test the robots," says David Zuby, IIHS's chief research officer. Despite the advances in automation, he cautions that adoption may be slower than people imagine. "We're not going to wake up five years from now and have all the cars on the road be replaced by Google cars," he says.
The industry is bracing for upheaval. Allstate Chief Executive Officer Tom Wilson's futuristic worst-case scenario for the business—he calls it The Jetsons—has automation cutting the costs of accidents dramatically. The number of vehicles on roads drops, too, because people sign up for car sharing or other transportation services instead of owning their own set of wheels. Auto insurance premiums plateau for a decade, then decline precipitously. "There will be fewer cars. There will be fewer accidents. And it will be safer," he says. "When you're as big as we are and insure 16 million households, it doesn't take much of a degradation to be a real revenue issue for you. So we are focused on it."
About six months ago, Allstate started a group to study what it calls the "connected car." Wilson, who has ridden in a Google self-driving vehicle twice, is also thinking about new sources of revenue. He's considered selling coverage for other kinds of products, such as mobile phones. Another idea: Make money off the troves of data the insurer collects on its customers. Allstate already offers a device that tracks driving behavior so policyholders can earn rewards for safe practices. Wilson wonders: Why not use that information to offer customers a coupon when they drive past a restaurant?
Other insurers are vaguer about their plans. Liberty Mutual says it's "actively in discussions" about how to help its customers benefit from the technologies. Cincinnati Financial, Mercury General, Progressive, and Travelers have all noted in regulatory filings this year that self-driving cars could hurt their businesses. During investor presentations, some have said they'll rely on homeowners' policies and other types of coverage should the auto premiums shrink.
One opportunity for the industry could be selling more coverage to carmakers and other companies developing the automated features for cars. While the new systems could reduce accidents significantly, they won't be perfect. Even Google's self-driving cars have been in a handful of minor accidents. When the technology fails, manufacturers could get stuck with big liabilities that they will want to cover by buying more insurance. There's also a potential for cars to get hacked as they become more networked. Fiat Chrysler recalled 1.4 million vehicles in July after security researchers demonstrated to Wired magazine that they could remotely take control of a Jeep driving down the highway. That could lead manufacturers to buy cybercoverage, says Meyer Shields, an analyst at Keefe, Bruyette & Woods. Still, he says even the most innovative insurers will struggle to replace as much revenue as they lose. He asks, "How many railroads turned into airlines when air travel came along?"
—With Elizabeth Dexheimer
The bottom line: Insurers collected $195 billion in auto premiums from U.S. drivers last year. By 2030, consumers could pay 60 percent less.
Before it's here, it's on the Bloomberg Terminal.
LEARN MORE