Wall Street Money Dries Up for Lawmaker After Anti-Gay Remarks
Robert Schmidt and Silla Brush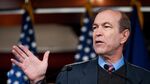 Representative Scott Garrett, who heads an influential House subcommittee overseeing the U.S. capital markets, is facing a revolt by corporate and Wall Street donors after he reportedly made anti-gay remarks at a private meeting of Republican lawmakers.
Earlier this month, in what financial lobbyists said was a sign of things to come, the Big 4 accounting firms and their trade association abruptly canceled a fundraising event for the New Jersey Republican. In addition, Goldman Sachs Group Inc. has decided to stop making political action committee donations to Garrett, people familiar with the matter said.
Other firms are likely to follow suit, and some in the industry have debated whether to take a more drastic step and ask for their contributions back from Garrett, said the people, who asked for anonymity so as to not antagonize a lawmaker who oversees their industry. Financial lobbyists have also raised concerns with Republican House leaders, the people said.
The Financial Services' capital markets subcommittee is informally known in Washington fundraising circles as the ATM -- a seat almost guarantees endless streams of cash from the financial firms that have business before the panel. While in the post, Garrett has pushed a deregulatory agenda backed by most of Wall Street, including rolling back the Dodd-Frank law.
Not surprisingly, Garrett's top donors include banks, hedge funds, audit firms and exchanges. They were jarred when Politico reported on July 16 that Garrett had made remarks disparaging gays in a closed door meeting, telling colleagues that he refused to pay required dues to the Republicans' congressional campaign committee because it had recruited, and supported, homosexual candidates.
When asked about the matter outside of a committee hearing Tuesday, Garrett refused to discuss his political fundraising. His spokesman, Chris Carofine, didn't respond to a call and e-mail seeking comment.
$2 Million
The corporate donors often provide the maximum political action committee contribution of $5,000 for the primary and another $5,000 for the general election to Garrett's campaign committee. They also can give the same amount to his PAC.
In the last election, hedge fund Elliott Management, accounting firm KPMG and Bank of America Corp. were among his biggest donors. According to the most recent federal filings, Garrett has more than $2 million in the bank heading into next year's election.
This year, through the end of June, Garrett has brought in $367,000 in contributions, according to the filings. Some $202,000 of that money has come from corporate PACs, which pool money from companies' employees.
Along with the PAC giving, many financial firms and their trade groups host fundraisers for Garrett.
Just last month, for example, the Securities Industry and Financial Markets Association, Wall Street's biggest lobbying organization, sponsored a June 25 dinner at Del Frisco's Double Eagle Steak House in Washington. PACs were asked to give $1,500, while individuals were asked to donate $1,000, according to a copy of an invitation to the event.
Staunch Conservative
First elected in 2002, Garrett is known as a staunch conservative who is also willing to buck his own party's leadership. He voted against John Boehner for another term as Speaker of the House in January, a move that has caused a number of Republicans to push for his chairmanship to be taken away.
Garrett's reported remarks on gay candidates have especially troubled some banks and accounting firms, which often tout their diversity as a means of attracting workers and clients, according to the people.
Those companies have also been in the forefront of pushing for marriage equality -- a position lobbyists said was difficult to reconcile with Garrett's comments, especially since they came shortly after the Supreme Court's June 26 decision legalizing same-sex marriage. All the Big 4 audit firms signed onto an amicus brief supporting gay couples' right to marry, as did Goldman Sachs and other major banks.
Goldman Sachs, Bank of America and Sifma declined to comment, as did accounting firms PwC, KPMG and Ernst & Young. A spokesman for Deloitte didn't answer a phone call and e-mail seeking comment.
'Outside' Mainstream
A spokesman for Elliott Management, Garrett's largest donor in the last election cycle, didn't return calls and an e-mail seeking comment. The firm is run by Paul Singer, a well-known conservative donor who was one of the major backers of the gay marriage movement.
Employees from Elliott, according to the Center for Responsive Politics, donated $87,800 to Garrett's campaign committee and leadership PAC for the 2013-2014 election cycle. The next highest contributor, a law firm, gave $22,300. Accounting firm KPMG contributed $20,500 and was the fourth biggest donor.
One person who may be benefiting from the fracas is Josh Gottheimer, a former Bill Clinton speechwriter and now Microsoft Corp. executive, who is exploring a run against Garrett. The Democrat has already raised some $600,000 -- one of the highest amounts for any challenger -- and is tapping into the disdain over Garrett's remarks.
Steve Elmendorf, a leading Democratic lobbyist who counts Goldman Sachs among his clients, is hosting a fundraiser at his Washington offices for Gottheimer on Wednesday. It is expected to be well attended.
"My experience with fundraising for challengers is you need a hook, and fortunately Garrett has provided us with one," said Elmendorf. "Garrett's LGBT position is well outside the mainstream."