Puerto Rico Lacking One Voice in Congress Hurts Aid Efforts
Kasia Klimasinska and Billy House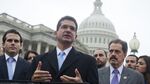 Puerto Rico's loudest advocates in Washington are having trouble persuading the U.S. Congress to listen.
Even with some Democratic support to help ease the commonwealth's debt crisis, Representative Pedro Pierluisi has little pull with Republican leaders and has muddled his message by pushing for statehood. What's more, he and Puerto Rican Governor Alejandro Garcia Padilla -- rivals in an election next year -- don't always agree.
The disunity of its leaders is hurting Puerto Rico's campaign for help from Congress, including support for a measure that would allow some commonwealth agencies to file for Chapter 9 bankruptcy, political observers say.
"There is no unified voice whatsoever," said Brandon Barford, a partner at Beacon Policy Advisors LLC in Washington and a former Senate Banking Committee staffer.
As the island of about 3.5 million people moves closer to debt-payment deadlines and Congress nears its summer recess, the chances of a default are rising. The next test comes Aug. 1, when $36.3 million of bonds sold by Puerto Rico's Public Finance Corp. become due. The island's legislature hasn't appropriated the funds to settle that payment.
Some commonwealth debt is trading lower in price on concern the island won't repay on time. Puerto Rico sales-tax bonds with a subordinate lien and maturing August 2018 traded Wednesday at an average price of 39.7 cents on the dollar, down from 45.05 cents Tuesday, according to data compiled by Bloomberg. The average yield was 41.4 percent.
Without a united front that rallies Republican support, it's all but certain that Congress won't act before Garcia Padilla releases a plan by Sept. 1 to restructure the island's $72 billion in debt, analysts said.
No Urgency
Officials in Washington aren't in a rush to assist Puerto Rico.
Congress has been busy debating legislation funding the nation's roads and bridges, and examining a nuclear agreement with Iran. Federal Reserve Chair Janet Yellen told lawmakers earlier this month she doesn't see any sign of risk from Puerto Rico's turmoil spreading to the broader municipal bond market, even as she urged lawmakers to consider taking action to mitigate the crisis.
"There is no sense of urgency in Congress or anywhere else in Washington for real solutions," Representative Luis Gutierrez, an Illinois Democrat, said Tuesday on the House floor. He pointed to a Caribbean island map and told members, "it is our colony and we rule over it."
Pierluisi introduced legislation that would allow the commonwealth's government agencies to restructure their debts under Chapter 9 bankruptcy protection and stave off an eventual bailout of the whole island.
His simultaneous push for a bill that would open a path to statehood for Puerto Rico distracts from more pressing needs, lawmakers including Representative Darrell Issa said.
'Mixed Message'
"It's something of a mixed message," said Issa, a California Republican who sits on the Judiciary Committee that would consider the bankruptcy bill before it would head to the House floor.
While the bankruptcy measure has a companion in the Senate and was endorsed by the White House, the U.S. Treasury and key Senate Democrats, it lacks Republican co-sponsors and so far hasn't moved beyond a hearing at the House Judiciary Committee.
Treasury Secretary Jacob J. Lew on Tuesday sought to frame the debate as an issue that may affect Americans' savings if it goes unresolved.
"The continued deterioration of Puerto Rico's economic and financial conditions has the potential to further harm retiree investment portfolios across the country," he wrote in a letter to Senator Orrin Hatch, the Republican chairman of the Senate Finance Committee. "I believe it requires the immediate attention of Congress."
Lew, who met with Garcia Padilla Tuesday, told reporters Wednesday that the Puerto Rico crisis must be resolved locally, among the island's government, bond holders and other parties. There isn't any "single external solution," he said.
Hedge Funds
Opponents are municipal bond investors ranging from hedge funds to retirees. BlueMountain Capital Management LLC and Oppenheimer Funds Inc., along with 60 Plus Association, a senior-citizen advocacy group, have launched lobbying and public-relations campaigns that have swayed Republicans by portraying it as a bailout.
To counter the backlash, Garcia Padilla, who is facing Pierluisi in next year's gubernatorial elections on the island, met with some U.S. congressmen to encourage them to vote in favor of the Chapter 9 bill.
Still, there is no evidence the visits have changed any minds yet, according to Daniel Hanson, an analyst at Height Securities, a Washington-based broker dealer.
"As a D.C. outsider, he is not especially adept at navigating the legislative process here in Washington," Hanson said.
Bipartisan Effort
Barbara Morgan, a spokeswoman for Garcia Padilla in New York at public-relations company SKDKnickerbocker, said he's conveying an honest message in an effort to persuade members of both parties.
"While the governor has not served in Washington, what he knows is that the most effective way to represent your constituents and implement effective public policy is by telling the truth and working across the aisle," she said in an e-mail. "This is what all American citizens deserve."
Among others seeking support for the bill is former Puerto Rico Governor Luis Fortuno, who might be crucial in getting backing if the Chapter 9 legislation heads to a floor vote, according to Barford.
Fortuno, who's advising Republican lawmakers and policy groups on Puerto Rico, said he was surprised by Garcia Padilla's statement last month that the island won't be able to pay all its debts.
"In Washington, a lot of people took pause" after they heard those words, Fortuno, a partner at Steptoe & Johnson LLP in Washington, said in an interview.
Democratic Support
Pierluisi's Chapter 9 proposal has the support of most House members with Puerto Rican ties, such as Gutierrez, whose parents moved to Chicago from Puerto Rico in 1950s, and Puerto Rico-born Nydia Velazquez and Jose Serrano, both New York Democrats.
Pierluisi's op-ed on July 11 in the New York Times saying statehood is the only antidote for island's troubles has detracted attention from its pressing financial woes.
"Here we are with Pierluisi working with Democrats and working with Republicans on the bankruptcy," Gutierrez said in an interview. "And then he goes and publishes -- simultaneously with my conversations and working with him -- 'Statehood is the Answer'."
Pierluisi said pursuing the Chapter 9 bill without a statehood proposal would be a disservice to his constituents.
"The main reason Puerto Rico is mired in an economic crisis, and the main reason it lacks the tools -- like Chapter 9 -- to overcome this crisis is because it is a territory and not a state," he said in an e-mailed statement.
Pierluisi said Republicans have told him privately that they'll support his proposal "and would vote for it if given the opportunity."
A "tactical choice" to hold off on formally adding Democratic cosponsors of the bill was made to avoid giving the impression that it's partisan, "which it absolutely is not," he said.
Representative Tom Marino, a Republican from Pennsylvania and the chairman of a House Judiciary subcommittee considering the Chapter 9 legislation, said he agrees with Lew that Congress needs to act.
"We have to make a decision on which way to go," he said in an interview. Marino said he expects a decision when lawmakers return from their month-long August recess.