Barclays Investment Bank Profits While Missing Out on M&A Boom
Ambereen Choudhury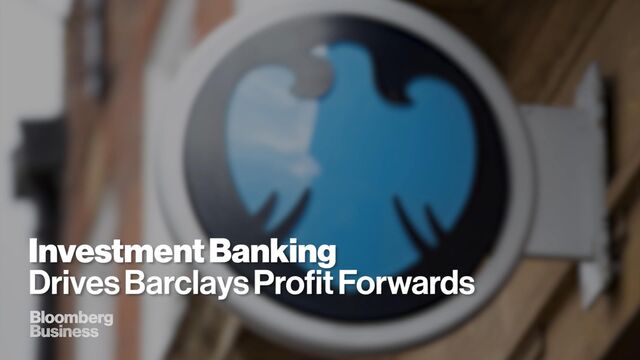 Barclays Plc's investment bank posted a 35 percent increase in profit as costs fell and the division is scaled back. That also meant missing out on a rebound in mergers and equities trading that benefited competitors.
Pretax income at the unit rose to 765 million pounds ($1.2 billion) in the second quarter from 567 million pounds a year ago, Barclays said Wednesday. Investment banking fees from activities such as providing takeover advice dropped 11 percent to 586 million pounds.
M&A income fell even as this year shapes up to be the most active for deals in Europe in a decade. A rising regulatory burden and fines for market rigging have eaten into earnings at the unit in the past, and Chairman John McFarlane has said he will reallocate capital to the most profitable businesses.
"Judging from the continuing announcements of investment-bank departures, operating expenses will continue to drop at a pleasingly faster pace than income in the investment bank," said Sandy Chen, an analyst at Cenkos Securities Plc.
Income from trading equities slipped 2 percent, compared with the 21 percent gain Citigroup Inc. estimated for U.S. securities firms during the quarter. Income from the trimmed-down rates and currency businesses rose 10 percent, benefiting from volatile price movements related to Greece.
Operating expenses for the quarter fell 14 percent to 1.37 billion pounds, also helped by lower fines for misconduct. Underlying investment-banking profit of 797 million pounds beat Citigroup's estimates by 21 percent.
Shares Jump
The shares rose as much as 3.3 percent Wednesday and are up 17 percent in 2015.
After losing a number of high-profile bankers last year, including Paul Parker, head of global mergers and acquisitions, and Hugh "Skip" McGee, head of the Americas division, the bank has been hiring dealmakers to strengthen its team in the U.S. Barclays was said Wednesday to have cut the heads of European asset-backed securities sales, trading and research.
"In terms of where we're going from here, it's a continuation of the strategy," Finance Director Tushar Morzaria said of the investment bank on a conference call. "We're not unveiling any new targets or any substantial changes to the business model."
Barclays has previously outlined plans to cut some 7,000 jobs at the investment bank, run by Tom King, and set up a unit for the sale of assets such as complex derivatives.
'Key Franchise'
McFarlane, in Wednesday's statement, called European and U.S. investment banking a "key franchise" and said its challenge is to extend this quarter's profit "into sustainable economic returns."
He plans to focus on the debt and equity capital markets businesses and the advisory arm, two people with knowledge of the plan said in July, while probably cutting the less profitable and more capital-intensive fixed-income, commodities and currencies trading businesses.
Income from most businesses at Barclays's investment bank fell, with the exception of its trimmed-down rates and currency businesses, which rose 10 percent, benefiting from volatile price movements related to Greece.
Trimming 'Malaise'
"I suspect it's the malaise of a bank trimming its business," said Christopher Wheeler, a banking analyst with Atlantic Equities in London. Equities income is "clearly a weakness and big one."
The M&A boom has seen transactions involving a European target reach $138.8 billion in the first half of the year, up 65 percent from a year earlier, according to data compiled by Bloomberg.
Goldman Sachs Group Inc. said in July that second-quarter revenue from investment banking rose 13 percent, while equities climbed 21 percent. UBS Group AG's second-quarter equities revenue jumped 30 percent.
While Barclays's shares have rallied this year, they are still trading below their 2014 high and are little changed from their levels two years ago.
"Starving the investment bank of balance sheet and cost meant that the bank largely missed out on the biggest investment banking rally since the global financial crisis." said Chirantan Barua, an analyst at Sanford C. Bernstein Ltd. in London. "If only Barclays had raised another 5 billion pounds when it came to the market in 2013, the franchise would have been in much better shape and so would their current shareholders."