New Jersey Transit Board Goes 12 Years Without Dissent as Trains Crawl
Elise Young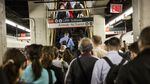 Two years ago, New Jersey Transit commuters gained an ally when a public member joined a board that has made all decisions unanimously since 2003. One hitch: He can't vote.
Raymond W. Greaves was the lone opposing voice July 15 when the eight-member panel composed of Governor Chris Christie's cabinet members and gubernatorial appointees raised fares amid a $120 million budget gap. Records of public meetings show not a single "no" vote on more than 800 resolutions seeking approval for such expenditures as $583 million for tunnel construction, $347 million for new buses and multilevel rail cars -- and four fare increases.
New Jersey Transit, the nation's third-largest transportation agency, has come under increasing scrutiny after malfunctioning signals and power lines last week caused train commuters four days of delays as long as 90 minutes. On Sunday, the agency said it was preparing for still more delays and arranged alternate routes for Manhattan-bound commuters.
Transit officials blamed Amtrak, the national railroad that owns the tracks. Some riders and Democratic politicians blamed Christie, a Republican presidential candidate who has diverted rail money to roads.
"I've been amazed at times when I thought we would get somebody on the board to go the other way on different issues," said Greaves, 49, chairman of an Amalgamated Transit Union local. "When you have government, and a governor making these appointments, it's not always for the best interests of the commuters and the residents and the people who are relying on affordable public mass transit."
Last month, a committee of the Democrat-dominated state Senate passed a bill that would add two commuters as voting board members. The sponsor, Senator Raymond Lesniak of Elizabeth, said July 23 he plans to amend his measure to give the seat held by Greaves a vote.
Nicole Sizemore, Kevin Roberts and Brian Murray, spokesmen for Christie, didn't respond to e-mailed requests for comment.
New Jersey Transit oversees more than $2 billion in annual expenditures on buses and trains.
Its longest-serving trustee is trucking magnate Mike Shevell, with 20 years on the board. Another member, Jamie Finkle, is an executive in a trucking firm with U.S. Postal Service hauling contracts, according to state financial disclosures.
No Decision
A third, Bruce M. Meisel, is a director or managing member of nine corporations and has donated to Christie's political-action committee.
Tackling New Jersey Transit's budget shortfalls was a task "above the pay grade of this board," which isn't compensated, Meisel said July 15.
"We're not elected to go to Trenton and make public-policy decisions," he said after more than 20 audience members criticized the fare increases and service cuts. "Our boards do what's in the best interest of New Jersey Transit and New Jersey Transit riders."
Meisel and Shevell didn't return telephone calls seeking comment on the board votes.
Finkle said in an interview that the voting record isn't "a fair representation of what goes on at the board level."
"There is absolutely discussions at all levels among the board members and the New Jersey Transit staff about every item that comes in front of us," Finkle said.
Other major transportation agencies give the public a voice.
The 17-member board of the New York Metropolitan Transportation Authority includes four elected county executives who cast one collective vote. At the San Francisco Bay Area's Metropolitan Transportation Commission, 18 of 21 commissioners have votes, and 16 are appointed by local officials. Nonvoting members represent federal and state government.
In New Jersey, a board member hasn't dissented since April 11, 2003, according to meeting minutes reviewed by Bloomberg and voting records that New Jersey Transit provided to David Peter Alan, president of Lackawanna Coalition, a non-profit riders group.
The tradition is so ingrained that in March 2013, trustees met for just 16 minutes to authorize spending $51 million on Hurricane Sandy repairs. Members, without public discussion, voted as a bloc after an audience member questioned the timing and transparency of the process, minutes show.
At the July meeting, the board authorized an average 9 percent fare increase that will take effect in October. The decision followed nine hearings at which dozens of passengers complained about inadequate seating and unreliable schedules.
Christie's Conversion
Christie, who five years ago stopped a tunnel project that would have doubled peak commuter service to Manhattan and diverted the money to roads, said in an interview broadcast Saturday that he now supports such a project as long as the costs are fairly distributed across the region.
When asked about the fare increase by reporters July 15, he said "no one ever likes to see fares go up."
"Increased service, increased wages all cost money and the state's putting a lot of money into New Jersey Transit," Christie said. "Riders have to bear some of that responsibility as well."
At the meeting, Alan and others said the trustees vote only as dictated by Democratic and Republican administrations alike.
"This is an organization that not only doesn't disagree -- it's not allowed to disagree," Alan said in a later interview.
Jamie Fox, the board's chairman and Christie's transportation commissioner, said issues before the panel are subject to "an extensive committee process," which increases the likelihood of full support for the final vote.
"Board members vote however they choose and are not given instructions," Fox said in an e-mail.