Rick Perry: Movie Theaters Should Not Be Gun-Free Zones
The recent mass shootings, Perry argued, were the result of poor enforcement of existing laws.
By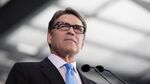 In the wake of two recent mass shootings, Republican presidential candidate Rick Perry said Sunday he does not support declaring certain public spaces "gun-free zones." 
"I would suggest to you that these concepts of gun-free zones are a bad idea," the former Texas governor said Sunday on CNN's State of the Union. "I think that you allow the citizens of this country who have been appropriately trained, appropriately backgrounded, know how to handle and use firearms to carry them."
Like many businesses in the country, the Grand Theatre chain—where two people were killed an nine others were injured after a man opened fire there on Thursday—forbids patrons from carrying firearms at all of its locations. 
The incident was just the latest mass shooting on American soil. On June 17, nine people were killed in Charelston, South Carolina, after a gunman opened fire in Emanuel African Methodist Episcopal Church. Perry said both events were the result of a failure in enforcement, but that the laws already exist that should have kept both shooters from getting guns. 
"I think we have the laws in place," Perry said. "Enforcement of those laws is what seems to be lacking." 
Perry is not the only presidential candidate to advocate greater access to guns as a way to deter further gun violence. Following the July 16 domestic terrorist attack at a recruiting office in Chattanooga, Tenn., that left four Marines dead and another injured, Republican presidential candidate Jeb Bush advocated for lifting a ban on guns in military recruiting offices. 
"It seems to me that if you have military bases or recruiting offices, these are symbols of American might, they're targets," Bush told reporters. "This is how you garner attention. You go to places where there's vulnerability, and it's a very powerful symbolic attack on our country."
In the past, other current presidential candidates have made similar arguments, advocating that greater access to guns could stop such rampages from unfolding. Republican candidate Rand Paul made that argument after the 2012 Sandy Hook Elementary School shooting.
"The only thing that would have changed the outcome, potentially changed the outcome, is something that so many people don't want to hear, and that's self-defense," the Kentucky said on  Fox News. "That if someone there had had a concealed carry, if someone had been armed, they might have had a fighting chance. They might not have saved everybody, but they might have been able to save some of those."
Meanwhile, the Democratic presidential candidates are speaking out in favor of stepping up gun control regulations. 
Former Maryland Governor Martin O'Malley has endeavored to make the issue a campaign cornerstone, sending out an e-mail after the Charleston shooting with the subject line "I'm pissed."
Hillary Clinton, in the aftermath of the Charleston shooting, said "it is the height of irresponsibility not to talk about" gun control.
Vermont Senator Bernie Sanders, whose home state has relatively permissive gun laws, has pitched himself as a way to bridge rural hunting culture with liberal gun control ideals. He said Sunday on NBC's Meet the Press that "guns used exclusively to kill people, not for hunting, should not be sold in the United states of America."