Mike Huckabee Uses Holocaust Reference to Slam Obama's Iran Deal
The former Arkansas governor says the Obama administration's deal with Iran marches the Israelis to "the door of the oven."
By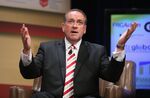 At times, it can feel like a contest: which Republican presidential candidate can frame the nuclear deal with Iran in the worst possible terms? 
On Sunday, former Arkansas Governor Mike Huckabee leapfrogged over his GOP competition during an interview with Brietbart News. 
"This president's foreign policy is the most feckless in American history," Huckabee said. "It is so naive that he would trust the Iranians. By doing so, he will take the Israelis and march them to the door of the oven."
By invoking the specter of the Nazi death camps, Huckabee arguably set a new bar for slamming the Obama administration's deal with the Islamic Republic, and drew a swift protest by the Democratic National Committee. 
"This rhetoric, while commonplace in today's Republican presidential primary, has no place in American politics," DNC Chair Debbie Wasserman Schultz said in a statement Sunday. "Cavalier analogies to the Holocaust are unacceptable. Mike Huckabee must apologize to the Jewish community and to the American people for this grossly irresponsible statement."
President Barack Obama derided the comments at a news conference on Monday in Ethiopia, calling them "part of a general pattern that would be considered ridiculous if it weren't so sad."
"What's ridiculous and sad is that President Obama does not take the Iran threats seriously," Huckabee shot back in a statement. "For decades, Iranian leaders have pledged to 'destroy,' 'annihilate,' and 'wipe Israel off the map' with a 'big Holocaust.' 'Never again' will be the policy of my administration and I will stand with our ally Israel to prevent the terrorists in Tehran from achieving their own stated goal of another Holocaust."
Huckabee's rivals have not exactly been soft when speaking of the agreement that they regard as a threat to American and Israeli security. Here's a sampling:
Rick Santorum
"This is the greatest betrayal of American national security in our history," Santorum said while campaigning in New Hampshire over the weekend. "[Iran] will cheat. They will violate the agreement. They will continue to sponsor terror all over the world."
Ted Cruz
At a Thursday rally against the deal held across the street from the White House, Cruz did not mince words. "Without exaggeration, the Obama administration will become the world's leading state sponsor and financier of radical Islamic terrorism." 
Chris Christie
"This was negotiated so badly that you wouldn't let this president buy a car for you at a car dealership," Christie says in an ad released last week. "Now, he's lying to the American people about how the deal's going to work. I would've walked away from the table."
Scott Walker
"President Obama's agreement with the Supreme Leader of Iran threatens our safety and will be remembered as one of the greatest diplomatic failures in American history," Walker wrote in an ope-ed for Brietbart News. "If elected president, I would terminate the deal on day one."
Donald Trump
"I think it's an outrage, I think it's done by people of gross incompetence, I think it's a tremendous win for Iran and many of our enemies and I think it's something that shouldn't be allowed," Trump told Brietbart News last week. In the same interview, he added, "It's amazing that Congress is so weak. It's amazing that these people on both sides are so pathetically weak — pathetically weak. It's a great embarrassment to our nation."
Lindsey Graham
"President Obama doesn't know what he's doing," Graham told David Brody in an interview on Friday, adding, "He's been wrong about everything. This deal is the worst mistake he's made."
John Kasich
"We have people in this world who believe our Western way of life, our Judeo-Christian way of life, needs to be exterminated," Kasich told a group of senior citizens in New Hampshire on Thursday. Later, he told reporters, "There is no indication they're going to do anything other than to support people who oppose us, hate us, hate our allies, want to destroy them. They're going to get a nuclear weapon and tons of cash. I mean, what sense does that make?"
Rick Perry
"President Obama's decision to sign a nuclear deal with Iran is one of the most destructive foreign policy decisions in my lifetime. For decades to come, the world will have to deal with the repercussions of this agreement, which will actually make it easier for Iran to develop a nuclear weapon," Perry said in a statement after the deal was announced on July 14. 
Marco Rubio
The Florida senator has made his opposition to the Iran deal a fixture of his fundraising appeals on social media, and has suggested it was crafted with a singular purpose in mind.