politics
California's Worst-in-Nation Roads Face $5.7 Billion Funding Gap
Alison Vekshin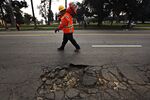 California's streets are some of the most potholed and rutted in the U.S., with three-fourths in Los Angeles and San Francisco rated poor in a new national study calling on lawmakers to boost road funding.
The dilemma that California and other U.S. states face is that their main road-funding source -- gasoline taxes -- is shrinking as engines improve and electric vehicles become more common.
Democratic Governor Jerry Brown in June called lawmakers into a special session, asking them to devise a way to fill a $5.7 billion annual gap in California's road-repair purse. The discussion has split on partisan lines, with his party calling for new taxes and minority Republicans preferring to use existing revenue.
"We're in such a desperate need for funding," said Assemblyman Jim Frazier, a Democrat and chairman of the Assembly's transportation committee. "We've just come through the worst recession any of us have been able to see, and there wasn't any funding. That's costing us, because for every dollar we didn't spend, now it's costing us $9 to fix."
If lawmakers agree when they return in August, California would join 12 states, including Florida and Massachusetts, that since 2012 have raised gasoline taxes, indexed them to inflation, dedicated car-sales levies to transportation or increased tolls, according to Transportation for America, a Washington group that advocates infrastructure funding.
The states are acting as Congress remains deadlocked over replenishing the Highway Trust Fund, a federal source of money for repairs. The latest of 33 short-term extensions to the fund since 2005 runs out July 31.
Distressed Bridges
Potholes and ruts cost Los Angeles- and San Francisco-area drivers $1,000 a year in additional car upkeep, about twice the national average, according to the study released Thursday by TRIP, a Washington-based nonprofit that researches surface transportation.
As many as 564 bridges are distressed and 41 percent of the state's 50,000 lane-miles (80,450 kilometers) of highways also are distressed or require preventative maintenance, according to California's transportation department.
The state needs $8 billion a year for repairs, though its gasoline tax is expected to bring in only about $2.3 billion, the transportation department said.
California Senator Jim Beall, a Democrat and chairman of the transportation and housing committee, has offered a plan to increase that by 12 cents and the diesel levy by 22 cents to fund maintenance, support freight movement and ease port congestion.
Republicans have offered proposals to generate $3 billion that would tap revenue from the state's cap-and-trade market for pollution credits, and by requiring vehicle fees to be used only for road projects.
Senate Republican Minority Leader Bob Huff said there may be an appetite by members of his party to support indexing the gas tax to inflation. He also said he could see common ground on imposing fees on electric cars or those not paying their fair share.
"There is an opportunity for a deal," Huff said.
Before it's here, it's on the Bloomberg Terminal.
LEARN MORE