Schumer Bides Time on Iran Deal as Obama Makes Full-Court Press
Heidi Przybyla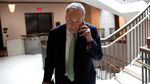 New York Senator Chuck Schumer is in a rare predicament over President Barack Obama's nuclear agreement with Iran: He's got nothing to say.
Schumer, the characteristically outspoken Democrat in line to become his party's next leader, is more consequential than just about any of the 14 or so Senate Democrats who may still be undecided over whether to back the deal. His clout in the chamber gives him the power to bring other lawmakers along.
Yet he's caught between a large Jewish-American constituency in New York skeptical of the accord and the Obama administration, which has begun a full-court press trying to safeguard Obama's foreign policy achievement. Israeli Prime Minister Benjamin Netanyahu has denounced the deal, and most Republicans in Congress have as well.
"It's a very difficult issue for him politically," said Steven Spiegel, director of the Center for Middle East Development at the University of California at Los Angeles. "The Democrats are torn because they see there are weaknesses" of the agreement, he said. "At the same time the real question is what's the alternative?"
"I'd be quite surprised if Schumer shows his hand anytime soon," Spiegel said.
There appear to be enough votes in Congress for a resolution to reject the deal, which Obama would veto.
A two-thirds majority is needed in both chambers to override that action. In the Senate, the president would need support from 34 lawmakers to prevent an override, and that's where Schumer -- who oversaw his party's re-election efforts and chairs its policy committee -- would come in.
Reid Retirement
"He does have a great deal of power," Spiegel said of Schumer, who's been in the Senate since 1999 and is poised to lead the Democratic caucus starting in 2017 after Harry Reid of Nevada retires."Members of the Senate who are concerned about the political ramifications will say, 'Well, Schumer went against the president, why should I support it?'"
Schumer and other Democrats are likely to demur as Congress and the rest of the world watches how Iran conducts itself in the weeks following the historic accord, which was unveiled on July 14. Just as U.S. lawmakers are reviewing the deal, Iran's parliament has set up a committee to examine it. A vote in Congress is not expected until September, leaving ample time for political opposition to spiral or to abate depending on events at home and abroad.
Besides Schumer, the administration is gearing its sales pitch to persuade other ambivalent Senate Democrats, including Maryland's Ben Cardin, the party's top member on the Foreign Relations Committee, to get in line.
Kerry Briefings
Secretary of State John Kerry delivered classified briefings Wednesday on the deal to House and Senate lawmakers. On Thursday, Kerry will be joined by Energy Secretary Ernest Moniz and Treasury Secretary Jacob J. Lew at a hearing of the Senate Foreign Relations Committee. Moniz sat alongside Kerry across the negotiating table from their Iranian counterparts, while Lew's department administers the economic sanctions that would be eased as part of the deal.
In the past few days, Schumer has brushed off reporters seeking his opinion on the agreement, repeating the same statement he made when the deal was reached July 14 that he's going through it with a "fine-toothed" comb.
At home, Schumer has been pressured in particular by the New York Post, which in a July 20 editorial called for the three-term senator to make clear where he stands on the Iran deal.
On Tuesday Schumer declined to answer questions, saying "I'm studying, like I said before."
During a Sunday appearance on MSNBC, Schumer said he hasn't decided yet either way, while warning he's willing to buck the president when necessary.
"When I think the president is wrong, I go against him," Schumer said, pointing to recent opposition to a Pacific trade deal. "I'm going to go over it with a fine-toothed comb."