Inside Donald Trump's $110,000 Hollywood Pension Disclosure
Christopher Palmeri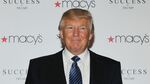 Deep inside the 92 pages of financial disclosures for Donald Trump's presidential run is a $110,228 pension the real-estate mogul receives from the Screen Actors Guild.
It may seem strange that a billionaire developer who moonlights as a reality-show host would collect a pension. But it's not so uncommon in Hollywood. Union pensions are a big perk for actors -- whose average income is about $48,000 annually, according to Payscale.com. Actors rarely generate the steady paychecks most workers receive throughout their careers.
Trump starred in the NBC reality series "The Apprentice" starting with its debut in 2004, and its spinoff, "The Celebrity Apprentice," from 2008. He earned $213.6 million over 11 years, according to a statement from his campaign. The network, owned by Comcast Corp., parted ways with Trump in June, after the Republican candidate's campaign announcement speech included disparaging comments about Mexican immigrants.
Trump's acting credits begin earlier. The 69-year-old New York native made appearances in 19 TV shows and movies, dating back to "The Jeffersons" in 1981, according the research site IMDB.com. He played himself in "Zoolander," the 2001 Ben Stiller comedy, and in 1992's "Home Alone 2: Lost in New York."
It's not clear whether the $110,000 figure is an annual amount. The reporting period for presidential candidates is the preceding year, plus the current year up to the filing date.
Hope Hicks, a spokeswoman for Trump, declined to comment on his pension, as did the union's press office.
According to his financial disclosure form, Trump's pension dates to July 2011, the month after he turned 65.
Guild members earning more than $20,000 a year can begin earning pension credits, according to the union's website. Beneficiaries earn a minimum of $220 a month and a maximum of $8,000 a month, or $96,000 annually.
Trump probably worked with the American Federation of Television Artists before its 2012 merger with SAG, according to Jonathan Handel, a labor expert who wrote about the candidate's pension in the Hollywood Reporter.
Handel speculates Trump's payments are higher because he's eligible for benefits from his Aftra work. According to the Aftra Health & Retirement Funds website, the maximum payout is $108,000 a year, subject to adjustments that could make it go higher.