Biden Urges $12 Federal Minimum Wage as Locals Move Toward $15
James Nash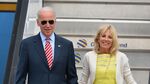 U.S. Vice President Joe Biden pressed for a $12 federal minimum wage during a stop in Southern California, applauding steps taken there to boost the hourly pay for hundreds of thousands of workers.
Biden, speaking at a bathroom fixture manufacturer in the San Fernando Valley Wednesday, said a higher federal minimum wage would serve as a "gateway out of poverty." Supervisors in Los Angeles County, the largest in the nation, Tuesday voted to raise the minimum wage to $15 by 2020.
"You really have set the tone for the country," Biden told city and county leaders at Bobrick Washroom Equipment Inc., a privately held maker of bathroom stall partitions, soap dispensers and other equipment for office restrooms. "People are getting a sense of not only what they should do, but what they can do."
Cities including Seattle, San Francisco and Los Angeles have voted to raise their minimum wages in response to a call from President Barack Obama to take local action amid opposition in Congress to boosting the federal minimum from $7.25 per hour, where it's been since 2009. Hourly pay has become a central issue in the political fight between Democrats and Republicans over income inequality.
A panel formed at New York Governor Andrew Cuomo's behest Wednesday recommended that the minimum wage for fast-food workers be raised to $15 an hour by 2018 in New York City and three years later in the rest of the state.
Also on Wednesday, the University of California, the state's third-largest employer, announced it will pay all of its full-time workers at least $15 an hour by October 2017 and require its contractors to do the same.
Biden, in office since 2009, called for raising the federal minimum in 2012. He said higher pay for workers gives them more money to spend in the economy.
Redistributive Guy
"No one working full time should live in poverty," he said. "I'm not a redistributive guy. But the fact of the matter is, when you concentrate all of the wealth in one place, people don't have the money to buy the widgets that you make."
Los Angeles Mayor Eric Garcetti signed an ordinance in June making the city the largest in the U.S. with a $15 minimum by 2020. The wage increase in Los Angeles County, home to 10 million people, would only apply to unincorporated areas with a population of about 1 million.
Business groups have warned that raising the minimum wage would force companies to fire workers to offset higher payroll costs.
"Small businesses understand the intent of the minimum wage increase, but they are frustrated that they will bear the primary burden," Gary Toebben, president of the Los Angeles Area Chamber of Commerce, said in an online commentary about the city minimum-wage ordinance.