Donald Trump's Financial Disclosure Form Has Landed—And It's Huge
It's nearly impossible from the federal forms to determine whether Trump—as he has claimed—is worth more than $10 billion.
By and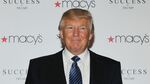 Donald Trump's personal financial disclosure form is public now, and it's as big as promised. 
The 92-page report starts with the 515 entities where the Republican presidential candidate has a title (usually president, chairman or both). It provides a window into the sprawling Trump empire, which includes the Donald J. Trump Revocable Trust, Trump World Publications LLC, Trump Ocean Manager Inc. and DT Dubai II Golf Manager LLC, in addition to golf clubs, vineyards and a private jet operation.
Calculating from the low end of the broad categories of value that the form provides, Trump is claiming a net worth of at least $1.35 billion in his companies and real estate holdings plus at least $70.5 million in liquid assets through accounts with Barclays, Oppenheimer Funds, Deutsche Bank, BlackRock and JPMorgan Chase. He also has more than $265 million in liabilities.
Among the surprises: Trump is a union man. His financial disclosure form shows the real estate mogul turned reality TV star collecting a pension of $110,228 courtesy of the Screen Actors Guild. His wife, Melania, made at least $100,000 from her skin care line. 
It's nearly impossible from the federal forms to determine whether Trump—as he has claimed—is worth more than $10 billion. Trump's claims about the size of his wealth have fluctuated over the years and sometimes have been based on little other than his own estimation of the value of his own brand. 
The Federal Election Commission isn't going to solve that mystery. That's because any asset worth more than $50 million gets counted the same, and Trump is claiming 23 of those, such as his aircraft, the Mar-A-Lago Club in Palm Beach, Florida and a golf course in Scotland. 
A Bloomberg assessment found Trump's largest assets, including the commercial spaces at Trump Tower on Fifth Avenue in New York, the leaseholds to 40 Wall Street and Manhattan's Niketown, a partnership with Vornado Realty Trust in two office buildings, and his collection of golf courses and resorts, to be worth at least $2.4 billion. 
As for that Trump brand, he made money when you slept, thanks to a (now-cancelled) licensing agreement with Serta that brought in more than $1 million. He made money when you woke up, thanks to a deal with Two Rivers Coffee that brought in up to $15,000. He made up to $1 million when you turned on the light, thanks to a deal with Elk Lighting. His Central Park carousel profited when you put coins in and he makes money when you go ice skating there at Wollman and Lasker rinks. 
Like Jeb Bush and Hillary Clinton, Trump also thrived on the speaking circuit. His biggest fee—three $450,000 appearances in less than a year for ACN, Inc., a multilevel marketing company that recruits people to sell communications services to their friends and acquaintances.  
What hasn't been going so great for Trump, his personal financial disclosure filing revealed, are his book sales. His 2004 book, "Think Like a Billionaire," generated less than $201 in royalties in the period covered by the form, which lists income since the beginning of 2014. His 1987 tome, "The Art of the Deal," fared better, with up to $50,000 in royalties. 
All candidates for federal office are required to file the personal financial disclosure forms with the government, and Fox News has made the disclosures a qualifier for its Aug. 6 debate, the first nationally televised matchup of the contenders for the Republican presidential nomination. 
The disclosures are also a reminder that Trump had some financial cushion from his parents. His father, Fred, was a real estate developer who amassed enough money—and an estate-planning strategy—by 1976 to create trusts for his children including Donald and grandchildren, according to the disclosures. Donald's father's estate had been estimated at $250 million to $300 million, according to a New York Times obituary in 1999.
The filing show the candidate has a key role in overseeing the family money. He's listed as a trustee for the seven 1976 trusts and since 1997, three more family trusts including two connected to his sisters Elizabeth and Maryanne.
Trump is also a trustee of two trusts for grandchildren in the family. The disclosures don't break out the holdings of these entities, as other candidates such as Mitt Romney have done in the past.
(Contributing: Margaret Collins)