New Jersey Transit Tells Amtrak Disruptions 'Unacceptable'
Terrence Dopp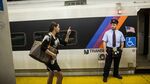 New Jersey Transit expressed frustration with this week's commuter rail-service disruptions, calling them "unacceptable" and promising to press for a solution.
"We've contacted Amtrak at highest levels," New Jersey Transit posted on its official Twitter account Wednesday, after a third straight day of delays. Amtrak, the national railroad that owns the malfunctioning infrastructure that New Jersey Transit blamed for the snarls, apologized to commuters and is fixing the issues, said spokesman Craig Schulz.
Veronique Hakim, executive director of New Jersey Transit, said in a statement that the agency pays Amtrak $100 million a year for use of its tracks and has asked the railroad whether the money "is truly going towards ensuring reliable rail service for our customers."
For commuters who collectively make almost a million daily trips on trains and buses, it's been an arduous week that came just seven days after the agency's board approved service cuts and a 9 percent fare increase.
Riders have complained to New Jersey Transit about having to pay more for inadequate seating and unreliable schedules. On social media, riders directed their ire at Governor Chris Christie, who killed a tunnel in 2010 that would have doubled peak service to Manhattan. Canceling the project allowed Christie, who's running for president, to divert money toward a depleted highway fund and avoid raising the gasoline tax.
Old Tubes
On Wednesday, New Jersey Transit suspended Manhattan-bound trains before the morning commute due to malfunctioning power cables, and then resumed service delays as long as 90 minutes. During Monday's evening rush, the agency warned of 45 minute delays out of New York because of damaged overhead wires. The next morning, riders on the Northeast Corridor line -- its busiest -- faced trains running 45 minutes behind schedule due to Amtrak signal problems.
"This week you saw everything that can go wrong actually go wrong," said Tom Wright, president of the New York-based Regional Plan Association and a New Jersey Transit commuter. "This is just indicative of how great the needs are."
New Jersey Transit, the nation's largest statewide mass-transit system, handles 955,000 trips daily across 12 rail lines, 260 bus routes and three light-rail lines.
The only direct train access between New Jersey and Manhattan is via a pair of century-old tubes under the Hudson River. The tunnels operate at peak capacity and delays are routine. The waits will worsen as each closes for days or weeks at a stretch for Hurricane Sandy repairs.
Service Disruptions
On Wednesday, trains didn't resume running on schedule until noon.
"These past few days of crippling power outages on the Northeast Corridor are unacceptable," Hakim said in the statement. "We have and will continue to press Amtrak on needed corrective actions and on whether these recent service disruptions are related."
Schulz, the Amtrak spokesman, agreed.
"We apologize to all who are affected by these delays," he said in a statement.
There is "long-term underinvestment" in the Northeast Corridor, Schulz said, and the delays "demonstrate the urgent need for infrastructure renewal and improvement, including a new tunnel under the Hudson River."
Long Commutes
About 15 percent of New Jerseyans endure commutes of 60 minutes or longer, one of the nation's highest rates, Census Bureau data show.
The promise of long-term relief fizzled in 2010 when Christie pulled out of the federally led Access to the Region's Core tunnel project, saying he was displeased by the design and concerned that costs would mushroom.
Gateway, an alternative proposed by Amtrak in February 2011, lacks funding and would take at least a decade to build. Inaction is "almost criminal," federal Transportation Secretary Anthony Foxx said this week, according to Capital New York.
Brian Murray, a spokesman for Christie in Trenton, said fare increases and the tunnel cancellation were unrelated to service problems.
"We are always concerned about any delays suffered by commuters," he said in an e-mail.
New Jersey Transit's governing board voted this month to raise fares and to eliminate some bus and train routes to close a $120 million deficit. The increases take effect in October.
Janna Chernetz, senior New Jersey policy coordinator for Tri-State Transportation Campaign, a commuter-advocacy group, said Christie's decision to cancel ARC hurt the state's ability to handle increases in ridership even as federal transit funding shrank.
"We could be on the road to actually expanding capacity under the Hudson," she said. "This is an issue that is obviously due to New Jersey's lack of adequate investment and transportation funding."