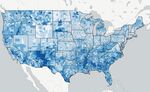 The upholding of the Fair Housing Act's "disparate impact" standard was one of many major victories for social justice dispatched by the Supreme Court this June. But the road to equal rights and opportunities remains long and thorny.
"Disparate impact" is the notion that housing policies that create "artificial, arbitrary, and unnecessary barriers" for minorities (for example, housing projects that are built only in high-poverty, minority neighborhoods) are a form of discrimination, even if discrimination is not the explicit goal. Therefore, SCOTUS ruled, such policies are unlawful, and can be challenged in court.
Yet poor, minority families face another, more literal set of "artificial, arbitrary, and unnecessary barriers" to opportunity, according to EdBuild, a new national nonprofit focusing on public education. Those barriers are school-district boundaries. EdBuild writes:
In the United States, the public school a student attends is still primarily determined by where their family lives. Most children are enrolled in district schools that receive, on average, nearly half of their funding through local property taxes. This system ties school budgets to the value of local property wealth and incentivizes boundaries between upper- and lower-income communities. Intentional or not, these invisible walls often concentrate education dollars within affluent school districts, and ensure that low-income students are kept on the outside.
And though more than 50 years have passed since Brown v. Board of Education, our schools are more segregated than ever.
In early July, EdBuild released an interactive map of more than 13,000 school districts across the U.S. and the student poverty rates within them. In many cases, school districts of dramatically different income levels are next-door neighbors, or even sit, island-like, within one another.

The map's helpful sidebar includes narratives on the ways these boundaries get drawn, and the disparate impacts they can have. In Nebraska, decades of policy changes over which schools students are allowed to attend have left some poor districts floating inside better-off ones.

Within five miles of the main school district in Camden, New Jersey—which, according to Census data, has the highest poverty rate of any U.S. city—are some 32 other districts, all with more affluent student populations. This leads to scattered, wasted state and local resources, and to low educational and economic outcomes for students in Camden.
And in Toledo, Ohio, many low-income, African-American students are forced to bus across multiple district lines to get to schools that will admit them, due to a legacy of intentional boundary-drawing to keep them out of certain districts. Gerrymandering, it seems, is as harsh a reality for students as it is for voters.

Student participation rates in the USDA's Free and Reduced-Price Lunch (FRL) program have long been the measure used to gauge districts in distress. But FRL qualification standards have changed over the years, inflating student neediness in some places and understating it elsewhere. Federal poverty rates are far from a perfect way of predicting academic outcomes, but here, they tell a fuller story than FRL.
The point of that story is this: Economic segregation in schools matters deeply. As a 2012 report by the University of California–Los Angeles's Civil Rights Project details, districts of concentrated poverty project a spectrum of negative educational opportunities and outcomes for their students: Less-experienced, less-qualified teachers, high rates of teacher turnover, and inadequate facilities and materials, and lower academic achievement. These effects, as so much research shows, can reverberate for a lifetime.
The disparate-impact ruling was a national victory for fair housing. Now, more than ever, we need one for financing fair education.