Republican Senators Really Want Donald Trump to Go Away
The billionaire's swift rise to the top of the GOP presidential field is not being regarded as a welcome development.
By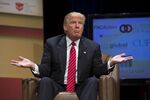 Senate Republicans were eager Tuesday to downplay the ascent of billionaire Donald Trump, who has surged to the front of the party's presidential pack in a third consecutive national poll.
Arizona Senator Jeff Flake lamented that Trump was hurting the Republican Party with his inflammatory attacks likening Mexican immigrants to rapists and drug dealers, a message he doubled down on in a July 11 rally in Phoenix.
"Hopefully it's a short-lived campaign," the senator told Bloomberg. "I just don't think it's good for Republicans. It's not reflective of where we stand. It's just not good for us."
A dozen Republican senators Bloomberg spoke to Tuesday insisted that Trump-mania was not worth paying attention to, or would dissipate soon, picking their words carefully as they seemed eager not to fan the flames of attention and controversy that the Donald thrives on.
"I think that'll be a short-term phenomenon," said South Dakota Senator John Thune, the third-ranking Republican in the chamber.
Tennessee Senator Lamar Alexander, who ran for president in 2000, laughed when asked about Trump. "I don't think he deserves my attention, nor yours," he told Bloomberg.
Trump surged to a double-digit lead in a Washington Post/ABC poll released Monday, placing 11 points ahead of his nearest rival, Wisconsin Governor Scott Walker.
"It's, uh, interesting," said Alabama Senator Richard Shelby. "It'll be interesting to see how long it lasts. I don't know... I think things will work out."
Maine Senator Susan Collins, who is considered a moderate in the Senate, let out a deep sigh when asked about the polling rise of the real estate mogul, who has thrown fierce punches and elbows at fellow Republicans critical of him. "From what I understand, those polls were done before his remarks on John McCain," she said, referring to Trump's attack on the senior Arizona senator's war record over the weekend in Iowa. "And a lot of it is he's well-known."
Some Republican senators sought to make light of Trump's rise and argued that surveys at this stage are irrelevant. And they may have a point—the 2012 election cycle saw dramatic swings with Republican candidates Michele Bachmann, Herman Cain and Newt Gingrich all enjoying their moment in the sun before flaming out.
"I think we're very early into the process," said North Carolina Senator Thom Tillis. "You know those polls go up and down almost on a week-to-week basis."
"I think, this early, polls don't matter," Ohio Senator Rob Portman laughed. "I think it's a question of name ID at this point."
Some senators really, really didn't want to talk about Trump—including McCain, the 2008 Republican nominee, who laughed and brushed away questions about his lead in the polls, according to the RealClearPolitics average. "I don't know what to make of it," he said. "I'll leave that up to others to judge."
Pennsylvania Senator Pat Toomey paused for a long, awkward silence and looked down at the bright carpets in a Capitol elevator when asked what he makes of Trump leading his party's presidential field. "Not much," he finally said. Is Trump good for the party? Another long, awkward pause. "I'll have more on that for you later."
Alabama Senator Jeff Sessions, one of the country's most outspoken critics of illegal immigration, said Trump's "clear talk" on the issue "got a lot of people's attention, and it just points out to my mind that whoever wants to be president needs to speak clearly on the issue, too."
But is Trump, on balance, good for the Republican Party?
Sessions paused to think. "I... I don't know," he shrugged, before quickly disappearing into a closed-door Republican lunch meeting.