Senate Highway Deal Relies on Reduced Fed Payments to Banks
Kathleen Miller, Jeff Plungis and Richard Rubin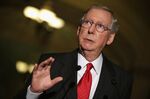 A bipartisan deal to fund U.S. highway construction for three years relies on proposals that will pull in money for a decade, including reduced dividends to banks from the Federal Reserve and sales of federally owned oil.
Most of the changes have nothing to do with highway policy, a reflection of the stalemate in Congress over how to cope with the erosion of the gas tax as a funding source for transportation. Instead, senators of both parties found money wherever they could -- from tax compliance, housing policy and Social Security payments to fugitive felons.
The current highway fund authorization is set to expire July 31. The House voted last week to finance highway projects until Dec. 18 while Republicans want a longer-term deal.
A first procedural vote on the Senate proposal failed 41-56 Tuesday amid opposition by all present Democrats and some Republicans, including 2016 presidential candidates Rand Paul of Kentucky and Ted Cruz of Texas. Democrats said they needed time to study the measure.
"We need to keep at it," said Majority Leader Mitch McConnell, a Kentucky Republican, who announced the agreement just hours earlier with Democratic Senator Barbara Boxer of California.
He said the Senate will work this weekend in an effort to get legislation to President Barack Obama before Congress's August recess.
The Obama administration is reviewing the McConnell-Boxer agreement, and wants to make sure safety standards are adequate, the White House said in a statement.
The deal would give highway advocates half of what they're seeking. It would provide a six-year blueprint for spending on roads, bridges and mass transit projects while paying for three of those years.
Fannie, Freddie
In addition to the reduced dividends to banks and sales from oil in the Strategic Petroleum Reserve, the deal also would be funded by changing Fannie Mae and Freddie Mac fees and eliminating a fund to compensate homeowners harmed by the 2008 financial crisis.
It would index customs user fees to inflation and keep Transportation Security Administration fees in the general fund longer than planned.
The plan would count 10 years of revenue to finance the highway program into the administration of the next president.
"Our preferred path would be to right-size the user fee, no doubt about it," said Brian Turmail, a spokesman for Associated General Contractors of America. "That being said, our priority is to invest in our highways and transit systems. This gets us there for three years."
Fed Banks
The largest single provision would change the 6 percent dividend paid by the Federal Reserve to member banks. It would be reduced to 1.5 percent for banks with more than $1 billion in assets while remaining at 6 percent for smaller banks.
Senator Richard Shelby of Alabama, chairman of the Senate Banking Committee, said he opposes the change.
Federal Reserve Chairman Janet Yellen also expressed concern about the change in congressional testimony last week, saying it "could conceivably have unintended consequences, and I think it deserves serious thought and analysis."
Another banking-related change would block a decrease, scheduled for 2022, in the guarantee fees that Fannie Mae and Freddie Mac charge to mortgage lenders. That would raise $1.9 billion.
The bill would raise $1.7 billion by eliminating the Hardest Hit Fund for homeowners created by the 2008 financial-systems rescue bill.
About $9 billion would come from selling 101 million barrels of oil from the Strategic Petroleum Reserve between 2018 and 2025.
The bill would raise $4 billion by indexing customs fees to inflation and another $2.3 billion by limiting Social Security payments that would otherwise go to fugitives with felony arrest warrants.
'Pretty Excited'
McConnell of Kentucky told reporters he was "pretty excited about the possibility of going forward with a bipartisan bill and doing something important for the country."
Boxer, the top Democrat on a committee that oversees highways, called the agreement a breakthrough. Still, she and Senate Minority Leader Harry Reid of Nevada opposed Tuesday's procedural vote, saying they needed time to read the bill.
McConnell's proposal sets up a conflict with House Republicans on how to pay for highway and other transportation projects. The House Republican plan would fund highways with $8.1 billion in revenue gained mostly by tightening tax compliance rules.
Ex-Im Bank
McConnell also said supporters of the U.S. Export-Import Bank would be permitted to offer a provision in the highway legislation to reauthorize the bank, whose charter expired at the end of June. McConnell opposes Ex-Im reauthorization.
The Senate bill includes tax-compliance measures passed by the House as part of its five-month highway fund extension. Beyond those, the Senate bill would reinstate private debt collection contracts at the Internal Revenue Service.
Boxer and McConnell have been in talks over which financing methods would be acceptable to both parties. The Highway Trust Fund has been running deficits of $10 billion a year or more as gas-tax revenue has been falling short.
Reid said Democrats would move as quickly as possible after senators are able to read the bill.
House Approach
The House's shorter-term highway funding legislation is intended to buy time for a more ambitious bipartisan plan that would link major international tax changes with new funds for infrastructure.
The second-ranking House Republican, Majority Leader Kevin McCarthy of California, told reporters Tuesday his chamber had the better approach on getting to a long-term infrastructure solution, and that the Senate should take up the House bill.
The American Road & Transportation Builders Association, one of the largest U.S. construction trade groups, urged senators to support the bill as a long-term commitment to improving infrastructure and the economy.
"After six Highway Trust Fund revenue shortfalls in the last eight years, Congress now has a chance to deliver three years of reliable highway and public transportation investments," Peter Ruane, the group's president and chief executive officer, said in a letter to lawmakers.