Jeb Bush Takes Aim at Revolving Door in Washington
In the first of a series of policy speeches, Bush takes aim at government bureaucracy and Washington lobbyists.
By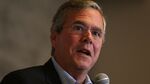 U.S. lawmakers leaving Congress should be banned for six years from lobbying, tripling the current prohibition, and prevented from influencing government as consultants, said Republican presidential candidate Jeb Bush.
In what his campaign billed as a major address about government reform, Bush also vowed to reduce the federal workforce by 10 percent over five years by hiring only one new employee for every three who leave. He said he supports a line item veto, giving the president the authority to cut spending, and a balanced budget amendment to the Constitution.
Lawmakers should have their pay docked for missing legislative days, Bush said, something his Senate rivals for the Republican nomination occasionally have been known to do. 
"It will not be my intention to preside over the establishment, but in every way I know to disrupt that establishment and make it accountable to the people," said Bush, the son and brother of former presidents and the grandson of a former senator, adding that his record in Florida shows he can be a government reformer.
Bush's speech in Tallahassee, the Florida capital where he spent eight years as governor, is the first in a series of policy addresses from the presidential contender. Already a favorite of establishment Republicans, Bush is appealing to the party's grassroots small-government movement with tough talk on Washington.
Saying the federal system of acquiring military equipment is broken, Bush encouraged competition among defense contractors and called for a simplified chain of command in military's procurement process. A document provided the Bush campaign took aim at the F-22 Raptor, the Comanche Helicopter and the Zumwalt Destroyer, saying the federal government could increase efficiency by upgrading defense systems over time, instead of "waiting decades to launch a new ship or plan with every conceivable bell and whistle."
"The Pentagon's acquisition system is so swamped with regulations, only a handful of giant defense companies can compete for big contracts," Bush said, endorsing reforms from Senator John McCain and Representative Mac Thornberry, the Republican chairmen of the Armed Services committees in their respective chambers.
Targeting a lobbying industry that he said has spent $12.5 million per member of Congress at last count, Bush designed his six-year lobbying ban would ensure than senators serve at least one full term without being influenced by a former colleague. Current restrictions prevent senators from lobbying for two years, and House members for just one.
Miles Rapoport, president of Common Cause, a Washington-based group that advocates for tougher lobbying restrictions, praised Bush's proposals, saying a six-year ban would be "at the top end of what we would have wished or hoped for."
"It's a strong statement," Rapoport, a former Democratic Connecticut secretary of state. "It reflects the fact that voters are really turning into the idea that there are real problems in how Washington's campaign finance and lobbying industries are operating."
The Republican presidential candidate also proposed weekly, online disclosure of lobbyists' meetings with members of Congress, and an expansion of the definition of lobbying to capture the growing class of what has come to be known as "unlobbyists," which Bush defined as an "ambiguous class" of individuals who don't register to lobby but belong to "the cadre of 'government relations' and 'government affairs' specialists now populating the Capitol."
Lax regulations defining lobbyists have allowed many former congressional staffers and even former members of Congress to hire on with organizations that do lobbying but not register as lobbyists.
"We need to help politicians to rediscover life outside of Washington, which—who knows—might even be a pleasant surprise for them," Bush said.
Without naming names, Bush took a aim at some current members who already have been spending time outside Washington. Some of the former governor's top rivals for the Republican nomination are U.S. senators, including Marco Rubio of Florida and Ted Cruz of Texas, who have missed votes in recent months while campaigning and raising money.
"A bill to dock the pay of absentee members might not pass the House or Senate, but at least it would get them all there for a vote," Bush said. "If we can't always get them on the job, let's at least get them on the record."
Bush said his first reform would be the partial freeze on hiring for the federal government, whose civilian workforce includes about 2 million employees. His plan, which would make an exception for security and safety workers, would save the government "tens of billions of dollars" without adding to unemployment, Bush said. A document provided by the campaign showed that 31 percent of the federal workforce will be eligible for retirement by September 2017.
Bush also suggested that federal workers are collecting too much compensation without enough oversight, and said it should be easier to fire an "unproductive employee." Bush criticized the federal government for firing just 0.18 percent of its workforce for cause in 2013, but didn't suggest an appropriate alternative.