Donald Trump Digs In as More Critics Pile On
The real estate mogul, reality star and presidential candidate defends his comments about John McCain.
By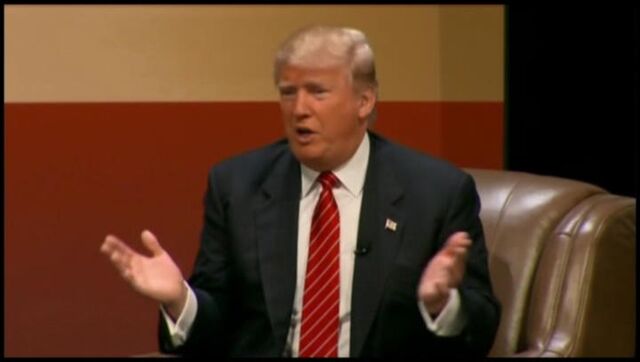 Presidential candidate Donald Trump on Sunday stuck to his guns after igniting criticism over the weekend when he questioned Arizona Senator John McCain's status as war hero, and said the Republicans attacking him are irked by his recent polling success. 
"What happened is, later on, the Republican candidates, some of whom are registering 1 percent and zero, and they're very upset that I'm leading the polls by actually a nice margin," Trump said on ABC's This Week. "They're extremely upset."
Trump has been at or near the top of several national polls recently, including a Fox News Poll out last week, which had Trump leading among Republicans with 18 percent. 
Trump's ABC appearance came one day after he ignited a firestorm of criticism after he said at the Iowa Family Leadership Summit  that McCain, a former Navy pilot who was held for more than five years in Vietnam after his plane was shot down in 1967, qualifies as a war hero only "because he was captured." 
Most of the Republican presidential candidates and the Republican National Committee swiftly condemned the comments, with the notable exception of Senator Ted Cruz of Texas. So did press magnate Rupert Murdoch, whose Fox News network will be hosting the first presidential debate next month and will be deciding which of the 16 major Republican candidates get the coveted 10 seats on the stage. 
A number of leading Democrats also spoke out against Trump, including the party's presidential front-runner, Hillary Clinton, and Secretary of State John Kerry. A former Senate colleague of McCain's and a fellow Vietnam War veteran, Kerry took the unusual step of issuing a statement hailing McCain's endurance in the face of "unspeakable acts of torture."
Said Kerry, who as the 2004 Democratic presidential nominee, got an assist from McCain when some Republicans questioned Kerry's Vietnam war record: "If anyone doesn't know that John McCain is a war hero, it only proves they know nothing about war and even less about heroism." 
On ABC, Trump said he did not serve in Vietnam because of student deferments and then a medical deferment for a bone spur in one of his feet. He called himself "fortunate" because "I was not a believer in the Vietnam war."
Trump insisted he will do a better job than McCain in advancing veterans' issues. In a statement issued by his campaign after the ABC appearance, Trump cited his contributions to the New York City Vietnam Veteran's memorial and to a 1995 Veteran's Day parade.
During the TV appearance, he complained that he's being treated more harshly than other candidates. When ABC reporter Martha Raddatz mentioned that Trump will sometimes lampoon other peoples' physical appearances, Trump pointed out that he is not immune to such attacks. 
"You say physical appearance," Trump said, according to the transcript. "You know, it's my hair but people are constantly attacking my hair. I don't see you coming to my defense.  I'm—my hair is just fine, but I don't see you coming to my defense."
On Sunday, GOP White House candidate Marco Rubio, a Florida senator, said on CNN's State of the Union that he agrees with rival Rick Perry, a former Texas governor and Air Force veteran who said Saturday that Trump's comments make him unfit to serve as commander-in-chief.
"This is not just an insult to John McCain, who clearly is a war hero and a great man, but it's an insult to all POWs, to all men and women who have served us in uniform, who have been captured in battle," Rubio said. "And this somehow makes the assumption that somehow, if you are captured in battle you're less worthy of honors than someone who isn't. It's not just absurd. It's offensive. It's ridiculous, and I do think it is a disqualifier as commander-in-chief." 
(Contributing: Nicole Gaouette)