Pro-Rubio PAC Reserves South Carolina Airtime in Primary Lead-Up
The filings reveal a media push for the Republican Florida senator in South Carolina, and signal more to come in other early primary states.
By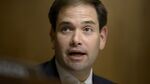 A political action committee supporting Florida Senator Marco Rubio's campaign for the Republican presidential nomination have bought nearly a quarter-million dollars in ad time in South Carolina in the weeks preceding its key 2016 primary, filings with the Federal Communications Commission show.
Conservative Solutions PAC executed its buys between Tuesday and Thursday, revealing part of the PAC's far-reaching media strategy even as the Rubio campaign announced lackluster fundraising results.
That strategy, detailed in FCC filings aggregated by the transparency project Political Ad Sleuth, show an aggressive push in South Carolina, which traditionally hosts the nation's third nominating event, after the Iowa caucuses and the New Hampshire primary. The primary, which is likely to take place February 20, 2016, is considered a Republican bellwether. The state's voters often have picked the party's eventual nominee.
The PAC executed the "significant pre-buy" to make sure it could get airtime at the end of 2015 and "ensure efficient use of resources," said Jeff Sadosky, an adviser to the PAC, in an email.
The group's ad buyer, Target Enterprises of California, reveals in communications attached to the filings that it plans to target viewers over age 55 in "all markets" in the three primary states, as well as some in adjacent states, at the end of 2015 and the beginning of 2016.
Although Conservative Solutions is a super PAC that legally can't coordinate with the Rubio campaign, shorthand used in some of the ad paperwork refers to the group as as "Rubio PAC." Conservative Solutions PAC has said it raised more than $16 million through June 30.
PACs and campaigns are generally not allowed to coordinate strategy or spending, meaning a PAC, which can accept unlimited donations, can give a bump to a candidate whose campaign is otherwise fundraising less successfully. In 2012, a single mega-donor, casino magnate Sheldon Adelson, largely propelled former House Speaker Newt Gingrich to a win in the South Carolina primary through huge donations despite issues in the campaign.
The specific pro-Rubio ads that will appear don't appear to have been determined, but the time has been paid for, with 286 spots for January and February, mostly during news shows, costing $244,000.
Conservative Solutions is making reservations so far out that some stations aren't ready to accept them yet. An worksheet for a 27-spot, $36,000 buy at station WYFF an NBC affiliate in Greenville, South Carolina carries a station employee's note that the "order has not been accepted at this time" and will be reevaluated "at a date closer to the election."
Correction: An earlier version of this story said the pro-Rubio Conservative Solutions PAC launched an ad focusing on President Obama's nuclear deal this week. The ad was launched by the Conservative Solutions Project. We regret the error.