California Farmers Fight for Century-Old Claims to Water
Alison Vekshin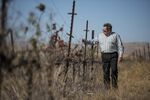 California farmers whose families have held rights to water since the Gold Rush are fighting cutbacks sought by an agency that's merely 48 years old, one of many points of contention in a battle inspired by an epic drought.
The California State Water Resources Control Board in June told holders of claims staked more than a century ago to turn off the spigots or face daily fines of as much as $1,000 and $2,500 per acre-foot. The agency then was hit by at least five lawsuits.
The warnings came as a four-year, record-setting drought squeezed California's $43 billion agricultural industry and led to mandatory, statewide water restrictions for the first time. Cattle rancher Mario Arnaudo lost the main supply he used to irrigate 700 acres (280 hectares) of alfalfa and pasture grass when his district, which held water rights more than a century old, cut him off after getting a notice.
"That's all our income," said Arnaudo, 21, whose family has owned his ranch east of San Francisco since the 1960s. "If this continues, we'll have to sell off a lot of our herd and start laying off our employees."
There are about 14,620 so-called senior water right claims, according to Timothy Moran, a water board spokesman. Some predate 1914, when permitting laws were established.
The state has sent notices to holders of about 300 of those claims for whom there's no water to accommodate them. Fifty-five percent have agreed to comply, Moran said.
Stratified System
California's hierarchical system for doling out water favors those who hold rights older than 1914. Those with claims after 1914 are typically the first and only group to face curbs in a shortage. They began getting notices in April.
"It does point to the severity of the drought and the fact that we need to get to the next level of water-rights users," said Doug Parker, director of the California Institute for Water Resources at the University of California. "Some of it's posturing and putting up a fight and saying, 'Look, we're not going to take this easily."
For Jeff Shields, general manager of the South San Joaquin Irrigation District in Manteca, it seems wrong that the state has told farmers they can no longer take water to which they've had access since Millard Fillmore was president. The agency is suing the state.
His district represents about 3,000 farmers and has seven senior water rights to the Stanislaus River, including three that date to 1853. It risks running out of water by next summer if he can't divert it into storage for use next year.
"These rights preceded the state's 1914 jurisdiction," Shields said. "These are property rights that farmers invested their land in."
Restraining Order
A Sacramento County judge on July 10 temporarily barred the state from enforcing the notices without offering a hearing. The board sent another letter to water-rights holders telling them that it may still issue fines following a hearing.
"The snowpack this year was almost non-existent, and that's our largest reservoir in the state," Tom Howard, the water board's executive director, said in a telephone interview. "There's not a lot of give left."
The state doesn't have the right to control the claims, which amount to property rights, said Steve Knell, general manager of the Oakdale Irrigation District near Modesto, an agency representing about 2,900 farmers that's also suing.
"How big of a deal is it if the government were to come and say we're going to take your house from you?" he said. "How do you take property from people who have relied upon these water assets for their livelihood and income?"
Liquid Faith
Rick Gilmore, general manager of the Byron Bethany Irrigation District, which also filed a lawsuit, said he's complying with the notice. The district, which serves about 160 farmers in the Tracy area outside San Francisco, is buying water for $650 per acre foot, enough to last through October, he said. Farmers typically pay $150 to $250 an acre-foot in a non-drought year.
"Hopefully, by then, the curtailments will be lifted," Gilmore said. "We'll have to hope and pray for some rain and we'll have to see what next year brings."
Ultimately, the process should be overhauled, said Buzz Thompson, a professor specializing in water policy at Stanford Law School near Palo Alto.
"California has the most archaic water system in the western United States," Thompson said. "It is largely an accident of history, but it's the system that we have and, politically, it is very difficult to change."