Iran Deal's Review in Senate to Open With Kerry, Moniz, Lew
Kathleen Miller and Billy House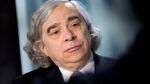 President Barack Obama is dispatching three of his top lieutenants to pitch the Iran agreement to skeptical U.S. lawmakers, as Congress opens its review of a deal designed to keep the Islamic Republic from obtaining a nuclear weapon.
Cabinet secretaries John Kerry, Ernest Moniz and Jacob J. Lew will testify next week before a key Senate committee on the seven-nation agreement, which has drawn objections from lawmakers from both parties. House Speaker John Boehner said Thursday that the deal faces stiff opposition.
"It's pretty clear to me that a majority of the House and Senate, at a minimum, are opposed to this deal," Boehner, an Ohio Republican, told reporters at the Capitol.
Lawmakers on July 23 will question Secretary of State Kerry and Energy Secretary Moniz, who were across the negotiating table from their Iranian counterparts, and Treasury Secretary Lew, whose department administers economic sanctions that would be eased as part of the deal.
The committee's chairman, Republican Senator Bob Corker of Tennessee, said after the accord between Iran and six world powers was announced Tuesday that he began "from a place of deep skepticism that the deal actually meets the goal of preventing Iran from obtaining a nuclear weapon."
Many Republican lawmakers already have denounced the accord as inadequate, and a number of Democrats have said they're skeptical as well. Still, members would have to muster two-thirds votes in both chambers to reject the deal over Obama's veto.
UN Dispute
A new dispute arose Thursday as Corker and Senator Ben Cardin, the Foreign Relations panel's top Democrat, jointly wrote Obama objecting to U.S. participation in a UN Security Council resolution planned for next week to endorse the Iran accord.
"We are deeply concerned that your administration plans to enable the United Nations Security Council to vote on the agreement before the United States Congress can do the same," they wrote. "We urge you to postpone the vote at the United Nations until after Congress considers this agreement."
The resolution would provide for Iran to meet its commitments to reduce its nuclear program and for the UN's own sanctions to be lifted once its weapons inspectors confirmed those steps were taken. It wouldn't affect national sanctions like those Obama is barred from easing until Congress completes its review.
"U.S. sanctions are U.S. sanctions, and UN sanctions are UN sanctions," Undersecretary of State Wendy Sherman, a top negotiator of the Iran accord, told reporters at the State Department.
Pelosi Support
Obama received a boost in assembling support for the agreement on Thursday, when House Democratic Leader Nancy Pelosi gave it a full endorsement.
"I've closely examined this document, and it will have my strong support," Pelosi told reporters at the Capitol.
Another House Democrat, Jan Schakowsky of Illinois, said, "I feel confident there will be enough votes to sustain a veto" of any resolution disapproving the Iran deal.
Schakowsky was one of about 15 Jewish House Democrats who met Thursday at the White House with Deputy National Security Adviser Benjamin Rhodes. She said in an interview that the members came away with "a sense of satisfaction," including regarding a commitment to Israel's continued security.
Honest Broker
Corker, who engineered legislation giving Congress a 60-day review of the deal, has promised to serve as an "honest broker." Other Republicans on the committee, including two presidential candidates, Marco Rubio and Rand Paul, have been outspoken in opposing it.
Representative Ed Royce, the Republican chairman of the House Foreign Affairs Committee, said in a statement that the agreement has drawn "serious bipartisan concern" and that his panel was "eager to hear Secretary Kerry explain to us the details," although a date for his testimony hasn't been set.
Senator Mark Warner, a Virginia Democrat who serves on the Senate intelligence committee, said Thursday that he was frustrated that some of his colleagues seem to be taking a stand on the Iran agreement without thoroughly vetting it.
"I am disappointed at members of the Senate from either side either rushing to its defense or rushing to criticize before we flesh out the details," Warner said at a breakfast with Bloomberg editors and reporters on Thursday.
He urged lawmakers to delay their decisions until people have had a chance to "make their case on either side who have read, reviewed and have opinions."
Saudi Diplomat
Kerry began an effort to sell the accord to Shiite Iran's Sunni Gulf rivals, meeting at the State Department on Thursday morning with Saudi Arabia's Foreign Minister Adel Al-Jubeir.
After the meeting, they told reporters that U.S. Secretary of Defense Ashton Carter will meet with representatives of the Gulf Cooperation Council on July 21 in Saudi Arabia and Kerry will do the same in Doha, Qatar's capital, on Aug. 3.
Asked about the nuclear accord with Iran, Al-Jubeir said "all of us in the region want to see a peaceful resolution to Iran's nuclear program."
"We are committed that if Iran should try to cause mischief in the region," he added, "we are committed to confront it resolutely."
Later, more than 200 diplomats from around the world attended a briefing on the Iran accord by Kerry and Sherman.