politics
Chris Christie Says Obama 'Lied' to America About Iran Deal
The New Jersey governor doesn't pull any punches in assessing the deal that aims to keep Tehran from obtaining a nuclear weapon.
By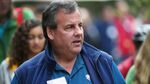 New Jersey Governor Chris Christie said President Barack Obama "lied" to Americans about a deal among U.S. allies to ease economic sanctions on Iran in exchange for regulation of the nation's raw materials for nuclear weapons.
"He lied to the American people," Christie, the 52-year-old Republican presidential candidate, said in a Wednesday interview on the Hugh Hewitt radio show. "He put his entire support of this agreement, as you heard yesterday, on verification. We're not trusting anybody, and he said that we have 24/7 access to Iran's nuclear facilities, and that we could inspect anytime, anywhere. Every reading of this agreement shows that all Iran has to do to stop inspections is ask.
Christie also said Obama should have predicated any agreement on the release of four Americans held against their will in Iran. "He knows this is a bad deal," Christie said of the president. 
Obama on Wednesday delivered an exhaustive news conference in which he took on critics of the deal, and argued that without the accord, the Islamic Republic "could move closer to a nuclear bomb."
Christie told radio host Hugh Hewitt that Iran could back out with a request to end inspections of nuclear facilities. An arbitration panel then could take as long as 24 days to restore the reviews—time enough, Christie said, for Iran to spirit evidence of weapons manufacturing around the country.
The U.S. Congress has 60 days to review the agreement, which also involves China, Russia, the U.K., France and Germany, Obama said at a news conference at the White House on Wednesday, a day after the deal was signed. Israeli Prime Minister Benjamin Netanyahu criticized the policy as a danger to the Jewish state, a key Middle East ally for the U.S.
"The protection of the state of Israel has to be a top priority of the president of the United States of America," Christie said. "What I would do as president is immediately meet with Prime Minister Netanyahu and try to repair this relationship that this president has so callously broken."
Christie, scheduled on Thursday to appear in Camden, New Jersey, for a national policy speech on criminal-justice reform, then will head to New Hampshire for two days of campaign stops. 
Before it's here, it's on the Bloomberg Terminal.
LEARN MORE