Complicating the Calculation of CEO Pay
By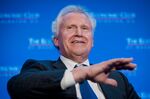 How much did Jeff Immelt earn last year? In General Electric's annual proxy statement, the figure is $9.6 million, which seems modest by today's standards for the chief executive officer of America's eighth-largest company. On the same page, you'll find a much higher tally: $37.2 million.
That's his "total pay," a figure that the Securities and Exchange Commission has required companies to report since 2006. It includes long-term compensation such as stock options and pensions and is presented as an effort to clarify a murky number. "Shareholders need intelligible disclosure that can be understood by a lay reader without the benefit of specialized expertise or the need for an advanced degree," then-SEC Chairman Christopher Cox said when it was introduced.
Companies have bridled at the rule in the years since, according to Mark Borges, a principal at compensation consulting firm Compensia, arguing that total pay overstates what the CEO makes because it includes such things as stock options, whose value depends on the company meeting performance targets. So companies have taken to doing their own calculations and presenting them prominently in annual reports along with total pay. GE calls the $9.6 million figure "realized pay," which reflects only the money the CEO earned during the year. "We use W-2 income as the measure of realized compensation because it is easy to understand and provides consistency from year to year," GE said in an e-mailed statement.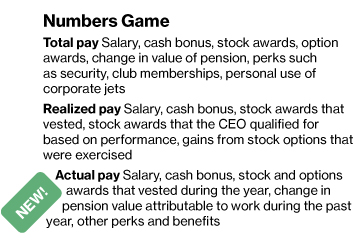 Coca-Cola also uses realized pay, although it calculates it differently. Coke reported that CEO Muhtar Kent realized $13.8 million in 2014, while under SEC rules his total pay was $25.2 million. "Our company designs our disclosure to provide both retail and institutional investors with the information they need in a way that is easy to understand," Coke said in an e-mailed statement.
Now the SEC is planning to introduce another benchmark, "actual pay," which would strip out some long-term compensation, such as stock options that haven't vested yet and changes in the value of the executive's pension. Under the formula, Immelt's 2014 pay would shrink by at least $24 million—but still be greater than his realized pay.
Companies would continue to report total pay, right next to actual pay. And they'd be free to state realized pay or any other figure they come up with. Critics say the jumble of numbers will make it even harder to pin down what the CEO really earned. Shareholder reports are already packed with arcane yardsticks that only professionals can grasp, says Daniel Alpert, managing partner at Westwood Capital in New York. McKesson's 2015 compensation report runs 161 pages and provides nine charts that explain how the CEO and other top executives are paid. "Individual shareholders are not going to understand this type of analysis," Alpert says.
It's a challenge even for professionals. The Florida Retirement System, which manages $163 billion in pension assets, uses four different models to make sense of the figures, says Michael McCauley, senior officer for investment programs and governance. "Comp is the most convoluted, most complicated" item in the proxy report, he says.
Under rules in the 2010 Dodd-Frank Act, the SEC must add another metric to the mix: a ratio that indicates how many times more the CEO is paid than the average rank-and-file worker. The commission plans a vote on the requirement on Aug. 5. Because the ratio may be embarrassing, companies are expected to supplement the figure with more charts and graphs demonstrating that the CEO is worth every penny.
The bottom line: While GE says its CEO "realized" $9.6 million last year, under SEC rules his compensation totaled $37.2 million.
Before it's here, it's on the Bloomberg Terminal.
LEARN MORE