Why the IRS Hung Up on 8.8 Million Taxpayers: Courtesy
Richard Rubin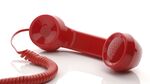 The IRS hung up on about 8.8 million U.S. taxpayers during this year's tax filing season, using what it euphemistically labels "courtesy disconnects" to manage call volume amid budget cuts.
That's up from just 544,000 hang-ups the year before, according to a report released Wednesday by the National Taxpayer Advocate, the tax agency's in-house critic.
Just 37 percent of taxpayers who tried the Internal Revenue Service's toll-free lines reached a real person this year, down from 71 percent last year.
Your accountant can't get through either. The IRS Practitioner Priority Line fielded just 45 percent of phone calls this year -- after an average 45-minute wait.
"Thus," the report says, "the use of the term 'priority' has understandably evoked a combination of frustration and amusement from tax attorneys."
At least someone's amused.