Hillary Clinton Takes in $46.7 Million from 250,000 Donors
The campaign spent $18.7 million during its first quarter, 40 percent of what it raised in the same time period.
By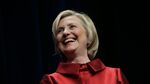 Hillary Clinton's presidential campaign raised close to $47 million in primary money during its first quarter and has $28.85 million in cash on hand, according to a report filed Wednesday with the Federal Elections Commission.
The Democratic front-runner is focused on raising money for the primary, and brought in more than $46.7 million—including in-kind contributions of nearly $280,000 from Clinton, who financed the testing-the-waters pre-campaign phase with her own money—once all the checks for the second quarter of 2015 were totaled. The campaign is not actively soliciting general-election money but still took in close to $825,000 that can only be spent if she becomes the Democratic nominee.
More than 250,000 people from all 50 states, Puerto Rico, the District of Columbia and all U.S. territories gave to support Clinton's candidacy, the campaign said in a statement, and 94 percent of donations were of $250 or less. The average donation was $144.89 and, showing Clinton's appeal to female voters, 61 percent of donors were women.
"Thanks to the more than 250,000 Americans who have stepped up to support Hillary Clinton's campaign, we have had the ability to make critical investments in our organization that will put us in position to win the primary and the White House," Clinton campaign manager Robby Mook said in a written statement. 
While Clinton's team touted broad-based support, the breakdown by dollars is slightly less kind, with about $8 million—just under 17 percent—of Clinton's haul coming in contributions of $200 or less.
The campaign was the first to voluntarily disclose a list of major fundraisers, and posted on its website the names of 122 individuals or groups that bundled at least $100,000 for Clinton. Many of those people hosted fundraisers for Clinton, including Facebook cofounder and New Republic owner Chris Hughes and his husband Sean Eldridge; Chicago media mogul Fred Eychaner; and Avenue Capital Group CEO Marc Lasry and his wife Cathy.
Texas Reprepsentative Joaquin Castro—the twin brother of Housing and Urban Development Secretary Julian Castro, a possible Clinton vice presidential pick—is listed as a bundler, as are Connecticut Representative Jim Himes and New York Representative Grace Meng. A few former Hillary Clinton staffers, including Minyon Moore and Lisa Caputo, are also listed as bundlers.
The campaign reported $2.1 million in donations bundled by registered lobbyists, including FTI Consulting's Jackson Dunn, who raised the most at $231,554, and former New Jersey Sen. Robert Torricelli, who raised $28,000. Campaign chairman John Podesta's brother Tony Podesta raised $74,575, while Tony Podesta's ex-wife Heather raised $31,150.
More than a dozen Hollywood stars and moguls gave the maximum $2700 to the campaign, including Leonardo DiCaprio, Bryan Cranston, Ben Affleck, Jennifer Garner, Richard Gere, Kate Hudson and Stephen Spielberg, who has also written a big check to the pro-Clinton Priorities USA Action super PAC.
Clinton's second-quarter primary haul, which her campaign had initially estimated at $45 million, beats the record-setting $41.9 million that President Barack Obama's reelection campaign brought in during its first quarter in 2011. 
While the campaign's expenses were sizable—disbursements totaled just under $18.7 million, more than any other campaign has even raised—aides insist that they were focused on making smart investments for the rest of the campaign, including starting off with a substantial number of staffers working in a large Brooklyn office, hiring dozens of staffers in early primary and caucus states, and buying voter files and e-mail lists outright rather than in installments.
The campaign spent its funds at a rate of about $230,000 per day and its overall burn rate is about 40 percent, much faster than the 20 percent rate of Vermont Senator Bernie Sanders or the 27 percent rate of former Florida Governor Jeb Bush. 
Even so, the $28.85 million in cash on hand exceeds any of her opponents from either party by more than double. Still, there's plenty of financial pressure on Clinton and the outside groups backing her, which in total raised about $70 million during the second quarter.
The campaign spent more than $900,000 on polling, with just over $800,000 going to Benenson Strategy Group, run by top Clinton adviser Joel Benenson. David Binder's polling firm was paid $90,000 by the campaign. The campaign ended the quarter owing $553,113.66 to another polling firm, Anzalone Liszt Grove Research.
While the campaign has sought out media attention for its thrift – especially on travel expenses – the numbers are less generous. The campaign's filing details $661.50 spent on Bolt Bus and Best Bus, and $8,700 spent on much pricier Amtrak trips. (There are also plenty of reimbursements to staffers for travel expenses which could of course include ground transportation.) Clinton initially relied on commercial flights to get to campaign stops but has increasingly been using private planes as her travel schedule has picked up, and disclosures show nearly $180,000 paid to just one aircraft company, Executive Fliteways.
The campaign spent $463,656.63 on rent, including $105,875.34 a month for its Brooklyn headquarters at 1 Pierrepont Plaza. 
"With Republicans tapping their billionaire backers for unlimited sums of money, we are glad to be able to have such broad support to be able to show why Hillary Clinton is the only candidate who will fight for policies that allow everyday Americans to get ahead and stay ahead," Mook said in his statement. 
Groups supporting Jeb Bush brought in $114.4 million during the first half of 2015—including $11.4 million raised by his official campaign between its launch in mid-June and the end of the second quarter. The Clinton team is "without a doubt" worried about being outraised by the efforts backing Bush and more broadly by the flow of massive amounts of money to super PACs backing Republican candidates, Clinton communications director Jennifer Palmieri said Wednesday on Bloomberg's With All Due Respect. 
"I am concerned that Democrats aren't taking it seriously enough and they should be really worried about this," she said. "We are really worried about this. We are still going to be outspent—we still think [Clinton] can win—but this is a big threat."
—Greg Giroux contributed to this report.