The Pope Calls on Jerry Brown to Preach Climate Change Gospel
Esme E. Deprez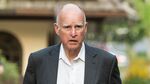 California Governor Jerry Brown says that when he was 18 years old and studying to become a Jesuit priest, he couldn't have fathomed that one day he would share a stage with the pontiff to discuss an issue of global importance.
Now he's going to do just that. Brown, a 77-year-old Democrat, has accepted an invitation to attend a symposium July 21 at the Vatican hosted by Pope Francis highlighting the threat of climate change and the havoc its unchecked spread would wreak.
"I believe what people at the Vatican are looking for is some hopeful news and reports that yes, climate change can be dealt with," Brown said by phone from Sacramento. "My message: that even though this is a very profound and difficult problem, California is showing a way whereby the countries of the world can actually do something very positive."
Brown is taking that message to bigger and more international audiences as he emerges as a leading voice in the global debate on climate change. He joined fellow activist Al Gore at the Climate Summit of the Americas July 8 in Toronto to deliver a keynote speech. In December, he will rub shoulders with world leaders at the United Nations Climate Change Conference in Paris.
The recognition is payoff for Brown, who has used his fourth term to ramp up his bid to strengthen California's carbon pollution rules, already the nation's toughest. He's pushing state lawmakers to pass legislation to reduce greenhouse gases caused by burning fossil fuels to a fraction of what they were a quarter-century ago, make utilities get a greater share of electricity from low-pollution sources and compel industries to cut smokestack emissions further.
Back Home
While Brown's stature as a crusader for far-reaching action to combat climate change grows, back in his home state, some business leaders say they are concerned that California is moving too fast and too far alone, leaving companies in the state at a disadvantage.
"An effective global climate policy will require all states to be involved," California Manufacturers & Technology Association President Dorothy Rothrock said in an e-mail. "To the extent that we can learn from the work done in California, we should. We support the idea of broad market-based mechanisms so that jurisdictions are not competitively disadvantaged and we are achieving least-cost emission reductions."
Brown, the son of a former governor, once had more in common with Pope Francis than with his colleagues in Sacramento. After graduating from high school in 1955, he enrolled at the Sacred Heart Novitiate, a seminary near San Francisco, to become a Jesuit priest. He left in 1960 to attend the University of California at Berkeley and then Yale Law School.
Sustained Faith
A sustained interest in faith, even after being elected governor for the first and second times in 1974 and 1978, led him to study Buddhism in Japan and work with Mother Teresa in India. He reclaimed the governorship in 2011.

Pope Francis, for his part, delved into the political fight over global warming with the June release of his encyclical, casting the fight to slow its pace in a moral light. Francis did, however, take issue with cap and trade programs that allows companies to buy and sell pollution credits, saying it could lead to a new form of speculation that wouldn't reduce emissions.
"This system seems to provide a quick and easy solution under the guise of a certain commitment to the environment, but in no way does it allow for the radical change which present circumstances require," Francis wrote. "Rather, it may simply become a ploy which permits maintaining the excessive consumption of some countries and sectors."
One Strategy
In a rebuttal, Brown told reporters in Toronto that cap-and-trade is just "one strategy among many."
"We have regulations, we have cap-and-trade and we have investments and we have research and development," he said. "All are needed."
Brown's focus on how human consumption impacts the environment dates to his earliest days in public office, said Barbara O'Connor, who began working for him as a appointee in the 1970s. She cited his decision to live in a small apartment in lieu of the governor's mansion during his first term as governor, and his emphasis on boosting energy efficiency as mayor of Oakland beginning in the 1990s.
"His positions have not always been as popular as they are now, but they've always been his positions," said O'Connor, who directs the Institute for the Study of Politics and Media at California State University-Sacramento. "That either makes him prescient or it means he's been preparing for this for a long time."
Brown, in the interview, said it's not just his words that are boosting attention to climate change.
"It's a convergence of greater threat, greater knowledge and greater focus on the whole topic than was true 30 years ago," he said. "That's why there is more attention, that's why it's happening -- because things have gotten worse."