Watches
How Daniel Wellington Made a $200 Million Business Out of Cheap Watches
Relying almost entirely on sly social media promotion, founder Filip Tysander is making a killing selling inexpensive, Chinese-built timepieces (that look fancy)
By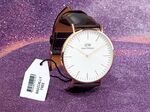 It began, unlike many watches, with the strap. In 2006, Filip Tysander was backpacking through Australia when he met a wanderer named Daniel Wellington. This was back before everybody had a smartphone, when people still wore a watch to tell time. Wellington's stood out for its bracelet—a minimalist black-and-gray nylon band, known as a NATO strap, securing a chunky Rolex Submariner to his wrist. After a few more chance encounters with Wellington between Melbourne and Cairns, Tysander became obsessed with the military-inflected accessory. So much so that he went home to Uppsala, Sweden, and built a whole company on the idea, naming it after the stranger who inspired him.
Daniel Wellington, or DW as the company is often abbreviated, makes watches that are both instantly recognizable and so generic they verge on invisible. They come with polished-steel or rose-gold-colored cases, in five sizes from a diminutive 26-millimeter to a medium-large 40mm. The dials are all white, with slim lines marking each hour and hands just wide enough to be legible. The only thing that noticeably sets DWs apart from each other is the strap, which comes in a half-dozen colorful nylons and a few leather options, none flashy enough to mar the luxurious look. With a watch, you often pay extra for minimalism—think A. Lange & Söhne or Piaget—but DWs are cheap, running from $149 to $299.

"Our watches are inspired by the upper echelons of the watch world but at a very accessible price point," says Frans Sjo, business manager for the U.S. "It's fair to say that we want everyone to be able to own a Daniel Wellington." Four years ago, Tysander invested $15,000 to start the company. In 2014 it sold more than a million timepieces and took in $70 million. This year, Tysander projects $220 million in revenue. By comparison, Rolex, which sells $5,000-plus watches, and Tag Heuer, which focuses on $1,000 ones, consider it a good year if they sell a million units.
Which means that, right now at least, it's good business to sell very expensive watches—or very cheap ones. DW competes with countless other brands in the $100 to $500 sector, including the Bauhaus-style Mondaine and the more military-looking Tsovet. But, in the same way that brightly colored plastic Swatches dominated the 1980s and utilitarian Fossils took off in the '90s, Daniel Wellingtons own the current decade. "Often a designer watch whose core reason to exist is that it is fashionable this season is probably no longer viable next season," says Steve Bock, former president of Fossil and current president of Bedrock Manufacturing, the parent company of Shinola watches.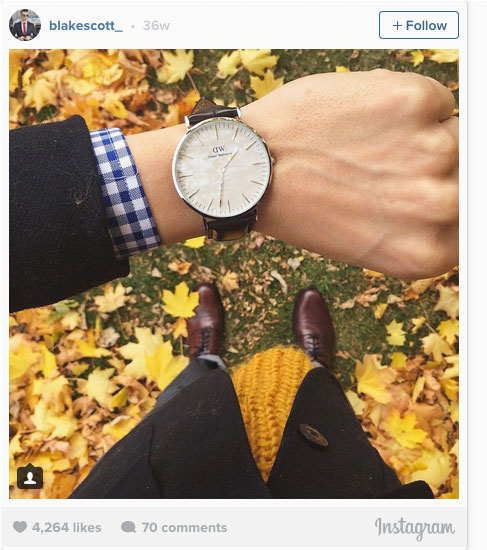 Beyond getting the styling right, Tysander picked a good moment to build a watch brand. After dipping during the financial crisis, the industry has grown every year since. About 40 million analog quartz watches were sold in 2014 in the U.S. alone, up from about 33 million in 2009, according to market researcher Euromonitor. Corresponding revenue rose by an even larger rate, jumping from $3.7 billon to $5 billion. And even though the Apple Watch—which sold 1.5 million timepieces in only a week—might have looked like a deadly threat to traditional watchmakers such as Daniel Wellington, sales have since dropped as much as 90 percent, says a recent report by Slice Intelligence, an analytics firm in Palo Alto. Two-thirds of the Apple Watches sold were the cheaper $349 Sport model.
When Tysander, 30, started his company in 2009, he also was running an online necktie store with his brother and producing a line of plastic Rolex look-alikes. The Chinese factory he worked with on the watches happened to also make nylon bands, so he began thinking about what kind of face might look handsome paired with them. "I designed a thinner case and added some color to go with the preppy trend going on at the time," he says. The first Daniel Wellington was 40mm and rose-gold, and it came with one of four bright nylon straps.
In person, Tysander bears a striking resemblance to the watches he's created. He's slim, with that particular color of shockingly blond hair that seems to exist only in Sweden. On the day we met, he was in a streamlined navy suit. "One of the biggest challenges in the beginning was that it was just me, no co-founders," he says. At first, he recruited classmates from Uppsala University to help. Now his team has more than 100 people throughout five offices, in Los Angeles, New York, Stockholm, Hong Kong, and Shenzhen, China. Only recently has he started adding senior staff, including a chief executive officer, Roger Kylberg, who used to run a popular Swedish children's clothing brand.

Although DW bills itself as a Swedish company, the watches are manufactured in China, which is how the company keeps prices so low. The internal quartz movements—a battery and vibrating crystal to keep the time, essentially—come from Miyota, a Japanese supplier popular with lower-price brands, because their products are reliable and they always have a massive inventory. The rest of the components are made and assembled in Shenzhen, a manufacturing hub.
The distribution is similarly international. At first, Tysander began selling the watch online in Sweden and through local storefronts. A year later he came to New York to find American partners, and now the watches are carried in major department stores such as Bloomingdale's and Nordstrom, as well as at niche fashion boutiques including Haberdash in Chicago and Lizard Lounge in Portland, Ore. Soon after, the DW team began attending Baselworld, the industry's largest trade show, held each spring in Switzerland. Unlike other brands that aim to stay exclusive by not selling to any old shop, DW will distribute to most retailers that want its product. There are now more than 5,800 partners worldwide, in places as far-flung as Kazakhstan, the Faroe Islands, and Andorra. Tysander says he wants to expand into places such as Africa that are underserved by the watch market.
The company also has a habit of giving its product away for free, specifically to social-media stars and prominent personalities. Tysander refuses to pay for traditional advertising, instead working with thousands of bloggers, celebrities, and other "influencers" worldwide. One of them, Blake Scott, 27, has been collaborating with Daniel Wellington for a little more than a year, sharing the watches with his 318,000 Instagram followers. "I first found out about Daniel Wellington via Instagram: Everyone outside the States was wearing one, and it seemed so cool," he says. Soon after, someone from the brand reached out and said he wanted to give Scott a couple of watches to post on his feed. Eventually he negotiated a deal with the company, which paid a few hundred dollars for a multiweek campaign.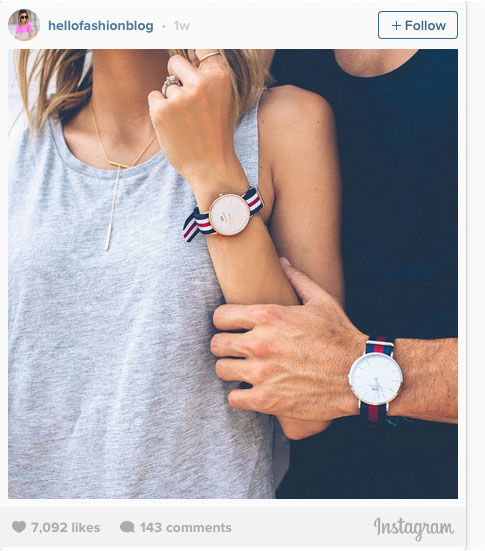 By being so blatant on social media, Daniel Wellington's Instagram account has gained more than a million followers, almost quadruple that of competitors MVMT (238,000) and Fossil (236,000). Traditionally, watch brands have avoided using social media, so Daniel Wellington has filled the void for online watch content.
But a plain watch gets boring after a while. So, in April, Tysander announced Daniel Wellington's latest style, the Dapper, its most complicated watch yet. And, at $299, its most expensive. It has black Roman numerals, instead of the typical stick markers, and a date window, a first for the brand. Instead of gold, the hands gleam metallic blue. And, in the gravest departure yet, the company suggests wearing it not with a NATO strap but a more sophisticated leather band.
Before it's here, it's on the Bloomberg Terminal.
LEARN MORE