House Republicans Scrap Breast-Cancer Vote Amid Abortion Dispute
Billy House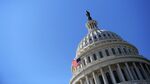 House Republicans canceled a planned floor vote Tuesday on a bill that would send millions of dollars to the Susan G. Komen organization that fights breast cancer.
Leaders wanted to ensure that charitable organizations that would receive funds from the legislation are 100 percent focused on diagnosing, treating and curing breast cancer, said a senior U.S. Republican leadership aide who sought anonymity to discuss the matter.
The bill would require the U.S. Treasury to mint coins that would funnel up to $4.75 million to the Komen organization. Some conservative groups, such as Heritage for America, have complained that Komen sends some funds to Planned Parenthood Federation of America, which provides contraceptives and abortions.
Questions were raised after a video surfaced that was taken via hidden camera by an activist group called the Center for Medical Progress. The video, posted on the group's website, showed a woman identified as Deborah Nucatola, Planned Parenthood's senior director of medical services, discussing the sale of body parts resulting from abortion.
Planned Parenthood spokesman Eric Ferrero said in a statement on the group's website that the video falsely portrays the group's activities. Planned Parenthood helps patients who want to donate tissue for scientific research, he said.
"There is no financial benefit for tissue donation for either the patient or for Planned Parenthood," Ferrero said.
16 Grants
Andrea Rader, a Komen spokesman, had no direct comment on the bill being pulled, though she provided a summary of funding provided by Komen affiliates to local Planned Parenthood clinics.
In the most recent fiscal year, the summary said, "Komen Affiliates approved 16 local grants totaling approximately $800,000 for screening and education services through local Planned Parenthood clinics."
The funds make up less than 1 percent of Komen's grants, and the group ensures they are used only for breast health-related services, according to the summary.
The House was to vote on the Breast Cancer Awareness Commemorative Coin Act, H.R. 2722, introduced by Representative Carolyn Maloney, a New York Democrat.
"Funding for breast cancer research is incredibly important to millions of American families. I remain hopeful that this bill will pass, and I'm working right now to make sure that happens," said Maloney.
The House leadership aide said members' concerns about the video led to the decision to pull it from a vote. The aide said leaders would be assessing the future of the bill.