Producers Plan Rock Opera Based on Exorcism Bobby Jindal Witnessed in College
The show will explore the relationship between a young woman and the future Louisiana governor.
By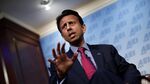 It's enough to make your head spin. 
Two producers plan to make a rock opera based on the exorcism performed on a friend of Bobby Jindal's that the Republican presidential candidate watched in college, according to New Orleans' Times-Picayune.
Producer Chris Chiari, a Colorado marijuana activist who twice ran to become a state representative in Florida, told the Times–Picayune that the piece doesn't aim to portray conservative Louisiana governor in a negative light. Rather, it will focus on the relationship between Jindal and the friend who underwent the ritual, a woman named Susan. Jindal later wrote they were "emotionally interdependent without a deeper commitment."
"It's a love story more than anything," Chiari said, according to the newspaper. "It's more about a story about a young man's inability to love."
Chiari said in the story that the exorcism doesn't come until the "final act" of the hour-long opera. He also said the production has enough private funding to get "into the game," although a Kickstarter campaign he and the other producer started hasn't been very successful.
Co-producer Brian Welsh was the prospective campaign manager for Stormy Daniels, the porn star who mulled a bid unseat Louisiana Senator David Vitter in 2010, the Times-Picayune reported.