Greece Seeks $59.2 Billion Bailout as Tsipras Bows to Demands
Nikos Chrysoloras and Jenny Paris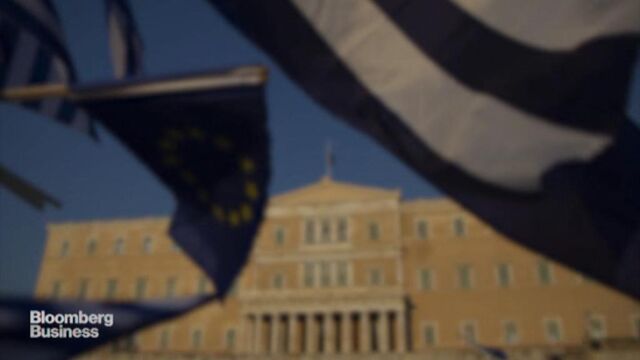 In an 11th-hour bid to stay in the euro, the government of Greek Prime Minister Alexis Tsipras offered to meet most of the demands made by creditors in exchange for a bailout of 53.5 billion euros ($59.4 billion).
European and U.S. equity-index futures jumped on Friday after the proposal was submitted to creditor institutions late on Thursday. The package of spending cuts, pension savings and tax increases almost mirrored that from creditors on June 26, which was rejected by Greek voters in a July 5 referendum. It will face its first hurdle in the Greek Parliament on Friday.
Though Tsipras ceded ground, he insists long-term debt needs to be made more manageable to allow Greece to recover from a crisis that has erased a quarter of its economy. He has a growing support base that includes the U.S., European Union President Donald Tusk and the International Monetary Fund.
"We are definitely closer to a deal than ever, as Tsipras has in the end given in," said Jacob Kirkegaard, a senior fellow at the Peterson Institute in Washington, citing concessions such as speeding up the pension reform to start next year.
Markets shared optimism that a deal was near. The euro strengthened 0.7 percent to $1.1110 as of 8:36 a.m. in Frankfurt. Italian 10-year government bond yields dropped to the lowest level in five weeks, while those on German 10-year bunds, the euro-area benchmark, climbed as investors retreated from perceived safety.
Agreement Risks
Risks would remain if an agreement is reached, ABN Amro Bank NV economist Nick Kounis wrote in a note.
"The deal would still need to be passed through various national parliaments," Kounis wrote. "Even if it is passed, there is a risk that Greece finds it difficult to stick to the program in coming months. The economy looks set for a sharp contraction, which is not the ideal background to be implementing tough measures."
It remains to be seen if the reforms are enough to appease the trio of creditors. A summit of EU leaders on Sunday will likely have the final say on whether the debt-addled country will get a new three-year loan.
Constructive List
Deutsche Bank AG strategist George Saravelos said in a note to clients that a first reading of the proposals found them to be constructive and indicative of government willingness to reach an agreement.
"Further progress on both the domestic and European fronts today would bring us a step closer to agreement over the weekend," he said.
For Greece, time is of the essence. Two weeks of bank closures and capital controls have piled on to the economic misery of its 11 million citizens, who voted so overwhelmingly against more austerity.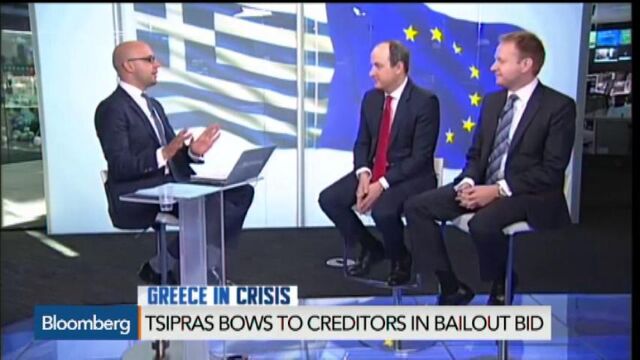 The Greek government said it would use the loan from the European Stability Mechanism to cover debt repayments between 2015 and 2018, mostly to the IMF and the European Central Bank. It will then be left with debt owed only to EU institutions.
Greece's proposal includes creditors' longstanding demands for sales tax increases and cuts in public spending on pensions. Greece also proposes the restructuring of its debt and a package of growth measures of 35 billion euros.
German Chancellor Angela Merkel, who leads the country that has been the biggest contributor to Greece's bailouts, is coming under mounting pressure to soften her position on debt relief for Greece. Germany's resistance to it has been a major obstacle to a deal.
Debt Sustainability
"A realistic proposal from Greece will have to be matched by an equally realistic proposal on debt sustainability from the creditors," Tusk told reporters in Luxembourg on Thursday. "Only then will we have a win-win situation."
Whether Greece can expect a writedown of its outstanding debts, which exceed 170 percent of gross domestic product, is another matter. Nevertheless, it will likely be addressed.
"We think debt relief of some form will be on the table," but structured in a fashion capable of winning German backing, Royal Bank of Scotland analyst Michael Michaelides said in a research report.
Even if Tsipras and creditors can reach a basic agreement, his greatest challenge may still lie at home.
On Friday morning, he'll meet lawmakers of the ruling Coalition of the Radical Left, or Syriza, to discuss the offer. The party was elected in January after it promised to fight the successive spending cuts and tax hikes that had been required for previous bailouts.
"It seems quite likely that Tsipras will have to rely on opposition votes for this to pass, which means that from his personal perspective the referendum actually did a lot of good, as he is now the only credible leader of a national unity government," Kirkegaard said in an e-mail.

Read this next:
Before it's here, it's on the Bloomberg Terminal.
LEARN MORE