Why Rubio, Bush, Walker, and Kasich Are Not as Purple as They Look
There are two American electorates—and most of the Republican candidates, even ones from states like Florida or Ohio—have never faced the most important one.
By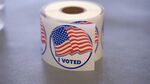 There are now 17 announced, or soon-to-be-announced, Republican candidates for president. And to the degree that they're serious about winning the White House (an open question in some cases) they're all trying to accomplish contradictory, if not mutually exclusive things: They have to sell themselves to the passionately partisan voters and caucus-goers in the early primary states (Iowa, New Hampshire, South Carolina, and Nevada), while simultaneously making the all-important case that they would be the strongest candidate to defeat Hillary Clinton, before a very different electorate than that of the GOP primaries, in November 2016.