politics
Republicans Back Puerto Rico Help, Balk at Bankruptcy Push
Kasia Klimasinska, James Rowley and Billy House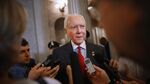 A growing number of Republicans in the U.S. Congress are saying they want to support Puerto Rico as it wrestles with an escalating debt crisis, though they've stopped short of backing legislation allowing for municipal bankruptcy.
Senator Orrin Hatch of Utah said he wants to help the commonwealth and will study a measure to allow some government agencies to file for Chapter 9 bankruptcy protection. Senator Charles Grassley, who heads a committee with jurisdiction over such legislation, said he talked to Puerto Rico Governor Alejandro Garcia Padilla about it.
Puerto Rico has drawn increasing attention on Wall Street and in Washington as the island struggles with $72 billion of debt that Garcia Padilla says it can't afford to pay. The bankruptcy legislation triggered a lobbying clash on Capitol Hill, as some groups blast it as a bailout. Key Democrats, which are in the minority, have supported the push.
"Congress will have to take action and the bankruptcy bill is part of the solution because it allows Puerto Rico to restructure its debt in an orderly manner," Representative Luis Gutiérrez, an Illinois Democrat, said in a statement Wednesday. "I don't feel like there is any real sense of urgency around here and that has to change."
Same Powers
The bankruptcy legislation, which would give Puerto Rico's public corporations the same powers that U.S. local governments already have, has yet to advance in Congress. Limited-government groups including the Alexandria, Virginia-based 60 Plus Association and the Heritage Foundation have opposed it.
The effects of a debt restructuring in Puerto Rico would be felt broadly by U.S. investors. About half of all municipal-bond funds hold the commonwealth's debt because it's exempt from U.S. income taxes.
"Of course, that is a bailout," said Mike Gonzalez, senior fellow at The Heritage Foundation in Washington. "Because the creditors who bought Puerto Rican paper, Puerto Rican debt, bought it at the rate that they did because Puerto Rico is blocked from access to Chapter 9."
The bill, sponsored by Puerto Rico's non-voting member of Congress, Pedro Pierluisi, was endorsed by the White House.
On Wednesday, House Judiciary Chair Bob Goodlatte said in a statement that his fellow Republicans on the committee had a "general concern" that the legislation "would not, by itself, solve Puerto Rico's difficulties."
Democratic Support
The push has won support from some key Democrats. Senators Charles Schumer of New York and Richard Blumenthal from Connecticut said they plan to introduce similar legislation. Senate Minority Leader Harry Reid said on Wednesday that Congress needs to do everything it can to aid the U.S. territory.
Democratic presidential candidate Hillary Clinton on Tuesday announced support for legislative change.
Congress enacted Chapter 9 in the wake of the Great Depression, after Arkansas became the most recent state to default. Jefferson County, Alabama; Stockton, California; and Detroit, Michigan used it after the recession to restructure their debts in court. States aren't allowed to file for bankruptcy, now would the Puerto Rico itself have that option under the proposed legislation.
Puerto Rico borrowed for years to close budget shortfalls as the economy struggled to grow. Governor Alejandro Garcia Padilla said in a televised speech on June 29 that Puerto Rico will seek to delay payments on the island's debt for "a number of years."
'Fairly Unlikely'
The Puerto Rico power utility, which serves almost all of the island's 3.6 million residents, has been trying to negotiate with creditors to restructure its debt out of court.
Goldman Sachs Group Inc. economists Alec Phillips and David Mericle wrote in a note to investors Wednesday that pressure to respond to politically powerful voters of Puerto Rican descent has increased Congress's interest in the island's long-brewing fiscal strains.
"While this might increase the probability that Congress responds to the situation in Puerto Rico, meaningful action in the near term still seems fairly unlikely to us."
(Updates with lawmaker's comment in fourth paragraph.)
Before it's here, it's on the Bloomberg Terminal.
LEARN MORE