House Republican Leader Backs Anti-Gay Marriage Legislation
Presidential hopefuls also jumping onto the "First Amendment Defense Act."
By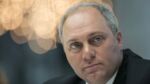 U.S. Representative Steve Scalise, the chief Republican vote-counter in the House, has signed-on as a co-sponsor of legislation described as an effort to protect people opposed to gay marriage from being penalized by the government.
The Louisianan, who as majority whip ranks No. 3 in the his party's leadership ranks, after Speaker John Boehner and Majority Leader Kevin McCarthy, added his name Tuesday to the bill dubbed the "First Amendment Defense Act." The two Republican lawmakers who wrote the bill, Representative Raul Labrador of Idaho and Senator Mike Lee of Utah have cast it as a way to clarify and strengthen religious liberty protections in federal law, "by safeguarding those individuals and institutions who promote traditional marriage from government retaliation."
The Senate version, S. 1598, has 24 co-sponsors, including Republican presidential aspirants Marco Rubio of Florida, Ted Cruz of Texas, and Lindsey Graham of South Carolina.  Scalise is  among 20 House Republicans who have become new co-sponsors of the bill since the Supreme Court's ruling last month legalizing same-sex marriage—bringing the total to 87.
In statement his office provided Wednesday to Bloomberg News on his decision to co-sponsor the bill, Scalise alluded to the high court's decision. 
"Religious freedom is a fundamental right established in the Constitution. Especially in the wake of the Supreme Court's recent judicial activism, defending religious liberty has become an even more pressing priority," said Scalise.
Scalise added the First Amendment Defense Act "helps ensure that Americans are not punished or discriminated against for exercising their constitutionally-protected religious beliefs."
The measure, introduced in the House on June 17, nine days before the Supreme Court's ruling on same-sex marriage,  has been referred to the committees on Ways and Means and Oversight and Government Reform. It is unclear if the bill has any chance to advance. But Scalise's co-sponsorship gives it an imprint of some House Republican leadership backing.
The bill has been introduced in both chambers of Congress by Republicans: Senator Mike Lee of Utah  and Representative Representative Raul Labrador of Idaho say it is designed to prevent any federal agency from discriminating against any individual, association or business based on their marriage views by preventing "any federal agency from denying a tax exemption, grant, contract, license, or certification to an individual, association, or business based on their belief that marriage is a union between a man and a woman."  As an example, the lawmakers say the bill would prohibit the Internal Revenue Service from stripping a church of its tax exemption for refusing to officiate same-sex weddings.
The bill also prohibits denials "of a federal grant, contract, subcontract, cooperative agreement, loan, license, certification, accreditation, employment, or other similar position or status from or to such person" who holds those religious beliefs.