Trade Ministers to Meet Amid Progress Toward Pacific Deal
Carter Dougherty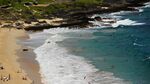 Negotiators from 12 Pacific nations crafting a regional free-trade pact will meet in Hawaii later this month, with the U.S. signaling that "considerable progress" has been made toward a final deal.
The Trans-Pacific Partnership would create a market with nations from the U.S. and Mexico to Japan and Vietnam, representing about 40 percent of the world's economic output. It's a cornerstone of President Barack Obama's bid to refocus U.S. foreign policy toward Asia.
"We have made considerable progress in closing gaps on remaining issues, and we continue to work intensively to address specific issues bilaterally," the U.S. Trade Representative's office said Tuesday in a statement. "The upcoming ministerial provides an important opportunity to build on this progress as we work to conclude the negotiation."
The U.S. Congress last month expanded negotiating authority for Obama, setting up the potentially deal-clinching meeting July 24-31 at the Westin Resort & Spa on Maui. Chief TPP negotiators will meet July 24-27 followed by the trade ministers July 28-31.
Gary Hufbauer, a senior fellow at the Institute for International Economics, said such a high-level negotiating session suggests officials from most or all the governments think an agreement is within reach now that Congress gave Obama the negotiating powers he sought.
Stumbling Blocks
Even so, trade negotiations often result in delays and the ministers may need to consult with their heads of state before closing the final deal later this year, Hufbauer said.
"I think a deal is close but end July seems optimistic," Hufbauer said. "The end of August seems more likely."
The agreement, now a draft that is confidential, has 29 sections ranging from trade in traditional goods to rules on the free flow of data -- aimed at preventing trade barriers to Internet-based commerce -- and rules on intellectual property.
Some of the thorniest issues involve traditional conflicts. The U.S. is pushing Japan to open its long-protected agricultural market for beef, pork, dairy and rice products. Japan is seeking the end of U.S. tariffs on cars and trucks for its auto industry.
U.S. Representative Sander Levin of Michigan, the top House Democrat on trade issues, said he has "real concerns" with labor standards for Vietnam outlined in the draft.
"Labor reform in Vietnam must mean more than lip service - - it must mean concrete action that complies with basic international standards before, not after, an agreement," Levin said in an e-mailed statement.
Japan Talks
Obama met Tuesday at the White House with Nguyen Phu Trong, Vietnam's Communist Party leader. After their discussions, the president told reporters the two countries are developing "a constructive relationship" that's bolstered by Vietnam's involvement in the trade negotiations.
Obama said he and Trong "discussed candidly" some of the differences between the countries on human rights and freedom of religion. He said he was confident "we can continue to make significant strides" on those issues through diplomacy.
The Canadian government on Tuesday reiterated its support for the accord, with Finance Minister Joe Oliver saying that increased trade and investment will benefit the economy. Canada is under pressure to open up its dairy and poultry sectors, where production is controlled through quotas and imports are restricted with high tariffs.
Signature Issue
Acting Deputy U.S. Trade Representative Wendy Cutler is in Japan this week to work on the U.S.-Japan part of the agreement. It wouldn't take effect unless the entire Pacific deal is concluded.
Even then, Obama, who has made trade a signature second-term issue, faces a tough fight in Congress to win approval for any agreement.
Passage of so-called fast-track negotiating authority ensures that Obama will get an expedited, up-or-down vote on trade deals that he submits for ratification.
Winning approval for fast track, known as trade-promotion authority, required six months of lobbying by Obama, who worked closely with congressional Republicans because most Democrats opposed it. A trade deal may demand a similar effort.
Levin said the reaction in Congress will depend on the type of agreement Obama submits.
"The time for rhetoric has passed," Levin said. "The administration now has a decision to make: Do they want to achieve broader bipartisan support than they got for TPA or don't they?"