The Big Question Republican Foes of Illegal Immigration Won't Answer
What should the United States do with the estimated 11 million people here illegally?
By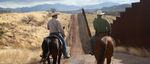 With few exceptions, Republican presidential candidates have lined up in strong opposition to legal status for undocumented immigrants. Not by executive action, not by legislation. "No amnesty," said Wisconsin Governor Scott Walker. Donald Trump's  incendiary comments on Mexican immigrants as he entered the race has placed a renewed focus on the issue in the crowded primary contest.