The Big Question Republican Foes of Illegal Immigration Won't Answer
What should the United States do with the estimated 11 million people here illegally?
By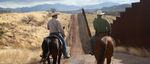 With few exceptions, Republican presidential candidates have lined up in strong opposition to legal status for undocumented immigrants. Not by executive action, not by legislation. "No amnesty," said Wisconsin Governor Scott Walker. Donald Trump's  incendiary comments on Mexican immigrants as he entered the race has placed a renewed focus on the issue in the crowded primary contest.
But there's one question that neither The Donald nor his fellow Republican candidates have been willing to answer: What should the U.S. do with the estimated 11 million people already in the country illegally?
Senator Ted Cruz of Texas, a fierce critic of illegal immigration, was asked that question five times in a Sunday appearance on NBC's Meet The Press; each time he declined to answer.
"I don't accept the premise that you have to solve every aspect of this problem all at once," he said. Pressed again on what he'd do with undocumented immigrants, he added, "Well, my view is first, we secure the borders and solve the problem of illegal immigration. And then I think we can have a conversation about what to do about the people who remain here."
He's hardly alone in dodging the question. In his announcement speech, Trump said Mexican immigrants are "bringing drugs, they're bringing crime; they're rapists" and vowed to undo President Barack Obama's executive actions on immigration but wouldn't say he'd deport undocumented workers and their families. Former Pennsylvania Senator Rick Santorum stopped short of calling for deportations when asked last month on Fox News, instead endorsing mandatory E-Verify, a system for employers to check if employees are authorized to work. Walker has abandoned his past support for a path to citizenship and also questioned the virtues of legal immigration, but he hasn't said if he'd force out undocumented immigrants.
"No amnesty. If someone wants to be a citizen they need to go back to their country of origin and go down the normal pathway," Walker told Fox News in May. In response to a follow-up query, his spokeswoman, AshLee Strong, wouldn't specify what he wants to do with the undocumented population, saying only that Walker believes the "next president is going to have to work with Congress to determine what future policies look like for the people here."
There are financial and political reasons Republicans are uncomfortable taking a position on deportations, and it speaks to the complexity of the issue.
Removing 11 million unauthorized immigrants and blocking future illegal entries would be extremely expensive, costing between $400 billion and $600 billion, according to research by the conservative pro-immigration group American Action Forum. Congress has given the federal government resources to deport some 400,000 immigrants annually (and has shown no interest in raising that figure); the rest are in purgatory.
'You can't put all the toothpaste back in the tube'
The politics are also tricky. Unlawfully present immigrants include people who were brought to the U.S. illegally as children.  Some are Pulitzer Prize-winning former journalists, others are said to be high school valedictorians. Polls show that Americans broadly sympathize with the idea of letting them stay and get right with the law, but many conservatives do not and brand such proposals "amnesty." The practical alternative, however, is harder to envision.
"We're not going to be deporting 11 million people in any kind of short period of time. It really isn't practical," said Mark Krikorian, the executive director of the Center for Immigration Studies, a conservative advocacy group devoted to reducing immigration. "You can't put all the toothpaste back in the tube."
He said Republicans should refuse to discuss any immigration reforms until enforcement is strengthened, as Cruz did, though he criticized the Texan for lacking specific proposals. But why won't Republicans admit that legalization is ultimately the most feasible solution? "It's because they're afraid of being called soft on amnesty if they say at some point we're going to have an amnesty," Krikorian said. "Nobody believes these guys are committed to [stopping future illegal immigration]. They have no credibility. And that's the problem."
'No plan to deport 11 million people'
That may create an opening for Jeb Bush, whose outspoken support for immigration reform has hurt his standing with Republican voters. The former Florida governor has shown an eagerness to challenge his rivals to offer a solution for the undocumented population, if not the path to legal status that he supports. Speaking to CPAC in February, Bush said: "The simple fact is there is no plan to deport 11 million people." He echoed that comment in March in Iowa: "No one I know has a plan to deal with illegal immigrants — to say that they're going to be rounded up and taken away," he said.
Bush seems to be spoiling for a fight with his rivals on a subject that many politicians would prefer to avoid. Dismissing Trump's remarks on Mexican immigrants as "wrong," Bush, whose wife Columba was born in Mexico, said last week that "maybe we will have a chance to have an honest discussion about it on a stage somewhere."
For the other Florida candidate in the Republican race, Senator Marco Rubio, immigration is a difficult topic politically.  His standing took a major hit after he championed a comprehensive bill to begin the legalization process at the same time as beefing up border security laws; he no longer supports that approach. As a result, Krikorian argued, "a very large share of Republican primary voters" don't trust Rubio. "He's taken pretty much every position you can take on immigration at one point or another."