Marco Rubio, Chris Christie to Bunk at Mitt Romney's New Hampshire B&B
The 2012 nominee has remained an in-demand Republican surrogate and fundraiser.
By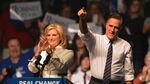 This may be the political junkie's sleepover of the year: Two rival candidates for the Republican presidential nomination will be bunking tonight with Mitt Romney at his vacation home in Wolfeboro, New Hampshire.
New Jersey Governor Chris Christie and Florida Senator Marco Rubio will be the guests of Romney, the Republican party's 2012 nominee. Both candidates are scheduled to march in Wolfeboro's July Fourth parade.
Speaking to reporters today in Derry, New Hampshire, Christie told reporters that he, his wife, Mary Pat Christie, and two of the couple's children, will be guests of Romney and his wife, Ann. A source close to Romney confirmed that Rubio will also be an overnight guest.

The Romneys own a $10 million vacation home in Wolfeboro. The meeting at a home near New Hampshire's Lake Winnipisaukee will reunite two politicians with considerable professional and personal history in Romney and Christie, and one who is a newer acquaintance.
In 2009, Romney was an early supporter of Christie in his race for governor.
Three years later, Christie returned the favor, vigorously backing Romney in his unsuccessful challenge to President Barack Obama.
Romney opted not to make a 2016 run despite early indications he flirted with the notion. Nevertheless, he's remained an in-demand Republican surrogate and fundraiser, and his support is coveted by many in a field that swelled to 14 people Tuesday when Christie jumped in.
In an interview with Bloomberg's Mark Halperin last month, Romney named six Republican candidates whom he could support, and spoke warmly of both Rubio and Christie.
"I like Marco," Romney told Halperin, quickly adding that he liked a number of the Republican contenders. "I'm fiercely neutral in this process," he quipped.
Of Christie, Romney said: "I've spent a lot of time with him and feel very close to him." And he offered his friend words of encouragement.
"Some people count him out, but not me," Romney said, referring to Christie's drop in the polls following a spate of negative publicity over his state's budget problems and his advisers' politically-motivated decision to manufacture a traffic jam outside a Democratic-controlled town.
"We like the comeback story," Romney added.
On a Derry sidewalk outside MaryAnn's diner, where he had been greeting breakfast patrons, Christie declined to say what he's expecting to the discussion topics to be. "Whatever he wants to talk about," Christie, 52, told reporters of his host. "I'm confident there will be some politics discussed tonight, but there will be lots of other things talked about too."