business
What BP's $18.7 Billion Spill Settlement Means for the Environment
It's both bigger and not as big as it seems
By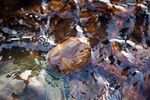 BP's announcement that it's wrapping up legal hostilities over the 2010 Gulf of Mexico oil spill brought cheers from all sides. Here's what it means.
The spill bill is even bigger than it looks
Everyone's talking about records. The $5.5 billion portion of Thursday's $18.7 billion settlement is a "record" under the federal Clean Water Act. Fine. The real number to keep an eye on—from the perspective both of BP shareholders and of people who care about the environment and corporate accountability—is $53.8 billion. That's BP's new internal budget for its total liability related to the disaster that resulted in the death of 11 rig workers and spewed millions of barrels of crude into Gulf waters. The company has already paid out about half of that amount and will keep paying for years to come. By settling the Clean Water Act litigation and other federal, state, and local environmental claims, the company bought certainty—and it bought time.
The $18.7 billion isn't as much as it seems
That's because BP has agreed to pay over 18 years. The Econ 101 concept "time value of money"—cash promised in the distant future is worth much less than cash today—makes the settlement manageable for an oil company whose annual revenue exceeds $300 billion. The money won't start to flow from the settlement until a year after signing; annual installments will then come to about $1 billion. Bob Dudley, BP's chief executive officer, sounded justifiably relieved in his official statement: "This is a realistic outcome which provides clarity and certainty for all parties."
Environmentalists know that payment over time is a good idea
BP has already spent up to $28 billion cleaning up oil and paying damage claims. Federal, state, and local officials actually need time to figure out how to spend additional money wisely. Moreover, while the environmental and economic damage from the 2010 spill didn't turn out to be as apocalyptic as some initially predicted, we still don't know all of the long-term effects. Scientists are continuing to monitor the Gulf, and it's a blessing that billions of dollars will be held in reserve for future recovery and restoration projects.
Fred Krupp, president of the Environmental Defense Fund, praised the agreement as promising "real hope for the future of the Gulf Coast." Krupp, a notably practical-minded activist, added an implicit warning about wasting money: "Now it is up to all of us," he said, "to work together to make the largest environmental settlement in our nation's history also the most meaningful."
Sadly, boondoggles are coming
Spacing out payments for restoration will deter some of the fraud, waste, and foolishness that would follow from a massive, immediate money dump. But it won't eliminate the problem. On the ground in Gulf Coast Louisiana, Alabama, Mississippi, and elsewhere, there's already preliminary evidence that local officials will use BP money for dubious public works projects with little or no connection to preserving the environment or promoting the marine economy. Some of those projects are already planned or under way. As the years go by, this temptation will grow. Ballparks and beach pavilions and parking lots will sprout up—not necessarily bad things in and of themselves, but not obviously related to nurturing the delicate Gulf ecosystem. And there will be out-and-out graft. Environmentalists and good-government advocates should celebrate today, and then keep a keen eye on the money trail.

Update: Updates the amount BP has spent on clean up and damage claims to reflect new figures from BP.
Before it's here, it's on the Bloomberg Terminal.
LEARN MORE