The Definitive H&H Jim Webb Scouting Report
He brings a Bob Kerrey-esque existential fearlessness about taking on the Clinton machine, but can he climb over Sanders and O'Malley?
By and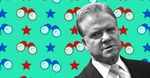 What he's got: Unusual and potentially potent resume as a decorated (including two Purple Hearts) Vietnam War veteran, Reagan administration assistant secretary of Defense and Secretary of the Navy, union member, and one-term Democratic senator from the battleground state of Virginia; image as an iconoclastic outsider/straight talker; Bob Kerrey-esque existential fearlessness about taking on the Clinton machine.
What he lacks: National name recognition; an avid following; a donor network outside the Old Dominion; early-state support; presidential campaign experience; demonstrated capacity to fight back against media and opposition scrutiny.
Biggest question mark: Can he climb over or even with Sanders and O'Malley, whose earlier entries in the race have given them a head start on claiming the Clinton alternative mantle?
Message: "Leadership you can trust."
Signature issues: Foreign policy, national security, military and veterans affairs, economy/job creation, empowering workers, reining in Wall Street power.
Core constituencies: Veterans, Virginians, Democrats who favor cultural moderation twinned with economic populism.
Fundraising mojo: Doesn't like to raise money and has no discernible strength in any buck-raking category.
Spouse and family: With his third wife, Hung Le Webb, a Vietnamese-American and 22 years his junior, has a daughter, Georgia LeAnh; daughter Amy from first wife Barbara Somorajczyk; children Sarah, Jimmy, and Julia from his second wife, Jo Ann Krukar. Jimmy is in the Marines and served as a lance corporal in Iraq when Webb was running for Senate; the candidate wore his son's old combat boots during the campaign.
Perceived electability as Democratic nominee: Arguably a stronger general election prospect than he is to win his party's nod; with his military background and varied issue positions, could put some red states in play.
National security credentials: Strongest in the field. Hails from military family and has extensive military background as combat Marine and Pentagon honcho, along with service on Senate Foreign Relations, Armed Services, and Veterans Affairs committees; warned in 2002 that invading Iraq without an exit strategy would keep the US in the country for 30 to 50 years; decades of extensive world travel. Television skills: Limited time on the national circuit, but almost always, stoic, composed, and straight forward, if a little quirky and sometimes dry. Significantly more compelling and comfortable fielding questions he is expecting.
Social media/online chops: Slim following of 8,000 on Twitter and 21,000 on Facebook; feeds feature bland postings, links to interviews, pictures of him speaking, and retweets of fans eager for him to step into the ring.
Media coverage: Squandered early moment when he suggested he might run and press seemed ready to treat him as Clinton's greatest threat. Now, barely mentioned in stories about the race and receives (and courts) scant attention.
Polling strength: Low single digit standing puts him above O'Malley in some surveys (such as in Iowa) but doesn't show much pulse.
The Big Mo: Despite some initial travel to early states and a few TV hits, hasn't generated much of anything yet.
Fire in the belly: Between laconic manner and slow-starting effort, has a lot to prove on this front.
The hang test: Can have a magnetism and gentility that many people respond to, but also can create distance with potential supporters with his unusual manner and tone.
Challenges party orthodoxy: More supportive of gun rights (including for veterans) and more opposed to affirmative action than many in the party; has voted against EPA regulations on greenhouse gases.
Best moment of the 2016 cycle so far: Being first out the gate to declare that he would launch an exploratory committee.
Worst moment of 2016 cycle so far: Reports a month into his exploratory committee phase suggesting almost $100,000 in payments made to from his PAC to family members.
Pictures he doesn't want you to see: The covers of his books "Lost Soldiers," "Something to Die For" or "Fields of Fire." Sexually explicit passages from all three books were made a campaign issue during his 2006 Senate run by his opponent, former Senator George Allen.