politics
Jim Webb's Mysteriously Timed Presidential Campaign Launch
He makes his big announcement as the country prepares for the Fourth of July holiday weekend.
By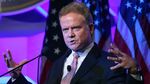 Former Virginia Senator Jim Webb finally entered the race for the Democratic presidential nomination on Thursday. Specifically, he sent out a tweet to a 2,000-word blog post during the latter half of the last workday before a three-day holiday weekend.
"After many months of thought, deliberation and discussion, I have decided to seek the office of the Presidency of the United States," Webb writes, despite what the timing and execution of his announcement might imply. 
Generally, presidential campaign launches are designed to generate attention and publicity for the candidate, but pre-holiday announcements by campaigns—also known as news dumps—generally imply that officials are releasing bad news and hoping for limited coverage.  
For instance, when the Obama administration announced it was delaying the controversial employer mandate for a year just ahead of the weekend of July 4, 2013, it was panned by conservatives for what Town Hall called "a classic bad news dump on the front end of a long holiday weekend." 
And while several Republican and Democratic presidential candidates will spend the weekend campaigning and fundraising across the country, Webb's campaign announced no immediate plans to build excitement as he jumped into the race with a speech or a news conference or a rally.
Webb's plans to begin campaigning in New Hampshire, where the election's first primary will take place, are also a bit fuzzy—at least for the month of July:
When asked the clarify the schedule, a Webb spokesman (presumably the same one) simply sent Bloomberg the same 2,000-word announcement, which contains no mention of plans. 
And it's not just the timing of the announcement, but the execution.
The candidate often seemed to be out ahead of his campaign, suggesting various time tables as the months of speculation built. In mid-June, he was saying he'd be making a decision before the end of the month, but squandered an opportunity to speak to Iowa Democrats last Friday.
Then, when the moment finally came, in July, Webb tweeted a link to a page on his website that returned error messages for some and at least one typo for all.
Ben Brody contributed reporting.
Before it's here, it's on the Bloomberg Terminal.
LEARN MORE