Ford's New Dashboard Software, by BlackBerry
The company ditches Microsoft and slims down its interface
By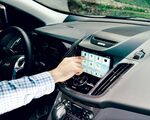 When new Fords start arriving in dealerships this summer, many models will feature the carmaker's latest in-dash interface, called Sync 3. It's not named after its predecessor MyFord Touch, because that software is something the carmaker would rather you forget.
Ford Motor has a mixed record in cockpit technology. It's been one of the most innovative car companies, introducing more features across more models than any competitor, but the downside has been overreach. "Ford's been first and they've been bold," says Jake Fisher, director of automotive testing at Consumer Reports, but that means the company's dashboard systems became too complicated. "It's been risky, and at times it's hurt them."
MyFord Touch was one of those times. Introduced in 2010, its touchscreen interface was supposed to leapfrog the competition, but most drivers found it confusing. Early on, the system crashed a lot. The company fell 18 places to No. 23 in J.D. Power and Associates' 2011 Initial Quality Study, and MyFord Touch was highlighted as the reason why.
MyFord Touch was powered by a Microsoft operating system, but Ford is now using an OS from BlackBerry subsidiary QNX that already runs in-dash systems in Audis, BMWs, and Mercedes-Benzes, among others. In 2005, the system's early days, a partnership with Microsoft was "completely obvious," says Gary Jablonski, Ford's manager of infotainment systems. "We wanted a big software company, lots of horsepower, connected to the consumer industry, connected to the phone industry." The BlackBerry software, he says, will be more resistant to crashes of the PC variety. It turns out the kinds of bugs people will tolerate from their phones drive them crazy on the road.
Sync 3 aims to wipe the touchscreen clean with a far easier interface. "We really focused on trying to make a system that was the simplest to use for customers," Jablonski says. That goal may sound obvious, but John Schneider, the project's chief engineer, acknowledges that to justify the added cost, "We tried to pack a lot of features into MyFord Touch."
Where the previous system was comprehensive to the point of being enervating, Sync 3 is "Fisher-Price-easy to use," as Jablonski puts it. The screen may not be gorgeous, but it has large buttons and a clear structure so drivers can easily switch from selecting music to entering a destination. Ford has also put traditional volume knobs and temperature buttons back on the dash. "Sophistication is not a substitute for solid design principles," says Don Butler, Ford's executive director for connected vehicles and services.
Sync 3 is entering a considerably more crowded marketplace than MyFord Touch did. Apple's CarPlay and Google's Android Auto seek to put the smartphone at the center of the in-car interface, making dashboard screens look pretty much like iOS or Android. Ford says it'll eventually support both CarPlay and Android Auto, allowing drivers to ditch Sync 3 and send Apple or Google their valuable location data.
To help keep Sync 3 updated, Ford is putting together AppLink, which other developers can incorporate into their software to make it Sync-compatible. The company is trying to make sure any app on any smartphone can run on Sync 3, too, taking pressure off Ford to keep pace with trendy tech. "AppLink lets customers get features they didn't have when they bought the vehicle," says Julius Marchwiki, who heads the software's development. Toyota Motor said in June that it plans to use Ford's open source version of AppLink in its cars.
That partnership sets up a bit of a showdown between major carmakers and Silicon Valley. Ford's argument is that it has more access to vehicle data than Apple or Google and a deeper understanding of how a driver interacts with her car. If that sounds familiar, it's because Apple has for years explained its value as a function of unified hardware and software design. Ford's engineers are betting that this philosophy will be a good defense against the very company that made it popular. (And against Google, too.)
"The user experience and interaction with the interfaces and the controls within the vehicle, it's not something that we at Ford feel like we can abdicate," Butler says. Others aren't so sure. Fisher, the Consumer Reports analyst, says it's a matter of time before Apple and Google control your dashboard, because they're much quicker to adapt. "If carmakers started this five years ago," he says, "you'd have hard-keyed buttons for Myspace and Friendster."
The bottom line: Ford has stripped down its cumbersome dashboard interface with an eye on competing systems from Apple and Google.
Before it's here, it's on the Bloomberg Terminal.
LEARN MORE